April 11, 2015:  The Texas legislative session is heating up, and the next eight weeks are going to be extremely busy.  You won't be able to act on every alert, but please do take action as often and in whatever way you can.  Your voice DOES matter!
This week, we have good news, bad news, and multiple ways you can help fight for local farmers.
Good News
Three good bills have Committee hearings scheduled for next week!
HB 184
6, by Representative Susan King, requires Texas state agencies to be open and transparent in implementing new federal food safety regulations.  The FDA is working on massive new regulations and has already announced that it plans to rely heavily on state agencies to implement them.  HB 1846 requires the  Department of State Health Services and the Department of Agriculture to publish notice of any proposed agreement with FDA, allow for public comment, and consult with key legislators. These are vital procedural steps to let Texans' voices be heard.
Read our fact sheet, call your legislators to support HB 1846, and then join us at the hearing on Wednesday morning, April 15th! Of all the hearings this week, this is our top priority. 
HB 262, by Representative Borris Miles, provides liability protection for landowners who allow their property to be used for nonprofit community gardens.  This would create an incentive for landowners to permit their vacant lots to be used by the community to expand access to fresh, healthy foods.   The hearing is on Tuesday afternoon, April 14th.
SB 1766 by Senator Brandon Creighton and HB 3764 by Representative Metcalf would allow very small-scale beekeepers to sell their honey directly to consumers at their home, farmers market, farm stand, or at a municipal, county, or nonprofit event, without processing it in a commercial kitchen.  The Senate bill will be heard on Monday, April 13th, and the House bill will be heard on Wednesday, April 15th.
Details on the hearings and how to register in support of one or more of these bills are below
Our fair property tax bill, HB 1900, had a great hearing in front of the House Agriculture Committee last week! In addition to FARFA's testimony, several farmers testified about the difficulty of convincing county tax appraisers to recognize their agricultural use of the land, even though they are raising food for their communities.  We're hopeful that the bill will move forward to the next stage soon.  Thank you to Representative Eddie Rodriguez for filing this bill and standing with our farmers.
Bad News
The bad news is that there is also a Committee hearing scheduled on a water bill that poses a threat to our long-term water resources.
Multiple bills have been filed this session to make it easier to transfer water from one area to another.  In practical terms, this means taking water from rural areas to supply urban centers.  While some water transfers may be appropriate and necessary, all too often these rural-to-urban transfers are being used to avoid real conservation measures.
Consider the fact that San Antonio is building a 140-mile pipeline to transfer large amounts of groundwater from rural communities in Burleson and Milam Counties, and at the same time is negotiating a deal to have some of the water bottled for sale!
Even if the rural areas have extra groundwater compared to their population at this time, this mining of our aquifers means the destruction of rural communities in the future.  With dwindling water supplies, the rural communities will stagnate and some could ultimately simply disappear.
SB 1907, by Senator Perry, and HB 3298, by Representative Larson, will lead to more of these sorts of water transfers.  The bills direct the Texas Water Development Board to conduct a study on how to develop a statewide water market and conveyance network – essentially, a massive grid to allow water to be shipped all around the state easily.  Although this is just a study, it will form the basis for future changes in the law.  And the basic premise, that these transfers are the solution to our water problems, is simply wrong.
FARFA's written testimony is posted here.  We are urging amendments to provide greater focus on conservation and to try to ensure that the interests of rural communities and farmers are not ignored.
SB 1907 is scheduled for a hearing on Monday afternoon, and we are urging people to register in opposition.  More details are below.
Take Action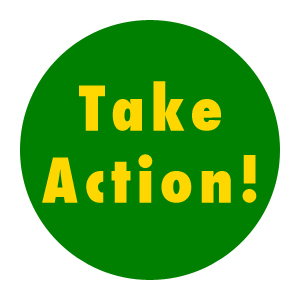 ACTION ITEM 1
Call your State Representative to support HB 1900 and HB 1846.
The legislators and their staff are overwhelmed at this point in the session, so the most effective way to take action is to focus on just one or two bills in each call.  Since HB 1900 and HB 1846 have gotten or are scheduled for hearings, they are the best focal points at this moment.
You can find out who represents you at www.fyi.legis.state.tx.us  or by calling the Texas Capitol Switchboard at 512-463-4630.
Call your State Representative, introduce yourself and mention that you're a constituent.  Tell the staffer that you urge your Representative to co-author HB 1846 and HB 1900.  You can draw talking points from our fact sheets on each bill: HB 1846 and HB 1900
ACTION ITEM 2
Call your State Senator to amend or oppose SB 1907.
When you call, introduce yourself and mention that you're a constituent.  Tell the staffer that you urge your Senator to work to amend or stop SB 1907 and any other bills that fail to prioritize conservation over water transfers.
Note: if your Senator is Charles Perry, who is sponsoring SB1907, politely urge him to amend his bill to address these concerns.
ACTION ITEM 3
Come to one of the hearings!
If you can come to the Capitol on Monday, April 13th, Tuesday, April 14th, or Wednesday, April 15th for even just a few minutes, it really helps to have people registered for or against these bills!
Our top priority is having people register for HB 1846 on Wednesday, April 15th
At each hearing, you can register, choose not to testify, and leave immediately if you want.  You'll be listed on the official witness list, which is very important — the legislators look to see how many people registered for or against bills when they go the floor for a vote.
Just a few minutes can have an impact!
If you wish to testify on any of the bills, please email Judith@FarmAndRanchFreedom.org
Hearing Details
DATE:  Monday, April 13
TIME:   2 pm or upon adjournment of the Senate
COMMITTEE: Senate Committee on Agriculture, Water & Rural Affairs
WHERE: Room E1.012
WHAT:
Register For SB 1766 by Creighton, Relating to exemptions from certain regulation for small honey production operations
Register Against SB 1907 by Perry, Relating to a study conducted by the Texas Water Development Board regarding the development of a market and conveyance network for water in this state.
Witness registration for the Senate hearing is on kiosks in the hallway behind E1.012
DATE: Tuesday, April 14 
TIME: 2 pm or upon adjournment of the House
COMMITTEE: House Committee on Judiciary & Civil Jurisprudence
WHERE: Room E2.026
WHAT:
Register For HB 262 by Miles, Relating to liability of an owner, lessee, or occupant of land that allows land to be used as a community garden
Witness registration in the House is on the kiosks, located on E1 and E2 – see below for details
DATE: Wednesday, April 15
TIME: 8 am
COMMITTEE: House Committee on Agriculture & Livestock
WHERE: Room E1.010
WHAT:
Register For HB 1846 by Susan King, Relating to notification by certain state agencies of the implementation or enforcement of the Federal Food, Drug, and Cosmetic Act
Register For HB 3764 by Metcalf, relating to exemptions from certain regulations for small honey production operations
Witness registration in the House is on the kiosks, located on E1 and E2 – see below for details
LOGISTICS
PARKING: Parking is usually available at the Capitol Visitors Center, located between Trinity and San Jacinto Streets at 12th and 13th.
You can find a map and other options also here
WHAT TO DO: The House uses electronic witness affirmations, which can be entered at kiosks located throughout the Capitol Extension. Take the elevator down to Floor E1 or E2, and walk down the main hallway about halfway.  Turn down one of the side hallways, then turn again so that you are going parallel to the main hallway. You'll see little alcoves, where there used to be pay phones — the kiosks are in there.
Registration for House Committee hearings usually opens one hour before the hearing, and sometimes earlier for afternoon hearings.  Registration closes once the bill is actually heard by the Committee, which may be close to the starting time for the hearing or may be many hours later – we will keep update everyone through our facebook page.
Additional Bills of Interest
There are two more bills that are scheduled for the Ag Committee hearing on Wednesday morning that may be of interest to our members.  Both bills are by Representative Eddie Rodriguez, chair of the Farm to Table Caucus.
HB 1616 establishes a pilot program for "Double Dollars" for SNAP benefits when used at farmers' markets.
HB 3290 establishes a pilot program to provide extra funding for schools that source local, unprocessed ingredients directly from farms.
You can register in support of these bills at the Wednesday morning hearing using the same guidance as above for the other bills.