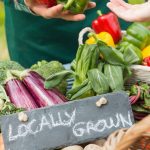 The Texas Department of Agriculture (TDA) has published its final rule on how it will implement the federal Produce Safety Rule in Texas, posted online HERE.
Since the final rule refers to the proposed rule for most of its provisions, you will also need to look at the proposed rule, posted HERE.
You may recall that FARFA submitted comments to TDA during the public comment period. However, the agency essentially ignored them, including our objections to requiring registration of qualified exempt farms. We are looking into a legal challenge to the rule, but until and unless that succeeds, the rule is in force. Here's what produce growers need to know.
FDA REQUIREMENTS
Most of our members will be either "not covered" (exempt) or "qualified exempt." But you need to be keeping the appropriate records and potentially more, even if you are exempt.
"Not covered": A farm that grows and sells fresh produce, but whose gross sales of produce were no more than $25,000 annually on average over the previous three years, is exempt from the Produce Safety Rule.…