April is crunch time at the Texas Legislature. Over the next few weeks, bills with either get Committee hearings and move forward or effectively die.
We still need calls on the raw milk bill! If you missed last week's alert, please click here and take action.
Two more of our local foods bills will be heard this Wednesday, April 10, by the House Agriculture & Livestock Committee. HB 1382 by Representative David Simpson would establish clear, practical requirements for farmers and farmers' market vendors who want to provide samples of their foods. HB 1393 by Representative Susan King would allow people to have licensed food facilities within their home.
The Agriculture & Livestock Committee will also hear bills dealing with the state animal ID program, purchasing preferences by government entities, and the establishment of a regional foods task force on the same day.
More information on all these bills, and how you can help, is below.
Farmers' Market and Separate Building Bills Hearing
Current regulations that govern sampling of foods are based on the conditions in brick-and-mortar facilities and pose unnecessary challenges for farmers and food producers at local farmers' markets. But the Health and Safety Code provides simpler standards for sampling produce at municipally-owned farmers markets, and there have been no reports of problems resulting from such an approach.
HB 1382 by Representative David Simpson, joint authored by Eddie Rodriguez and Lois Kolkhorst, simplifies the current provision for sampling at municipally owned farmers' markets and expands it to all farmers' markets and farm stands. This provides clear, reasonable standards for sampling while still protecting the public health with basic sanitation measures. The bill also provides special provisions for cooking demonstrations at farmers' markets and exempts educational cooking demonstrations from permit fees.
HB 1393, the Separate Building Bill
A major barrier for local food producers of several types is the requirement that a licensed facility be in a separate building from a residence. This means that a farmer who wishes to store foods such as eggs or meat on the farm, or someone who wishes to set up a small commercial kitchen, must build another building at significant expense.
HB 1393 by Representative Susan King, joint authored by Eddie Rodriguez and co-authored by Bryan Hughes and George Lavender, would bar the health department from requiring that a licensed facility be separate from a residence. If a farmer or other food producer wishes to have a licensed facility within their home, they would still be subject to the other regulatory requirements.
Please come support these important bills at the Committee hearing on Wednesday, April 10. All of the details are below.
While you're at the Capitol, you can increase your impact by taking a few minutes to visit your Representative and Senator in person. We'll have flyers available with information on all the local foods bills, to make it easy.
Other Bills of Interest
Update 4/9 :  There will be a "committee substitute" (amended) version of the bill introduced.  While we support the original bill, we do NOT support the committee substitute.  We are talking with the bill author about changes necessary to preserve the original intent.   The original purpose behind the bill was that, while the USDA was willing to make changes in its animal ID rule to address the concerns of animal owners, the Texas Animal Health Commission has been unwilling to do so. On the specific issue of tagging a cow that is going to slaughter, USDA provided an exemption but TAHC has refused! The bill, as originally introduced, would  require TAHC to make its in-state animal ID program no more stringent than the federal program — but the committee substitute grandfathers the existing unduly burdensome regulations. Read more about the problems with Texas' animal ID program here.
HB 2528, Purchasing Preferences Bill
School districts and government entities making food purchases are already directed to give preference to foods "produced, processed, or grown" in Texas if the price and quality are the same as out-of-state products. HB 2528 by Representative Eddie Rodriguez would allow government entities to give preference to Texas foods even if the price is up to 7% higher than out-of-state products.
HB 2686, Regional Food Economy and Food Access Task Force
A second bill by Eddie Rodriguez would establish a regional food economy and food access task force "to study and provide recommendations to the legislature on developing this state's regional food economy and improving access to healthy food for the people in this state."
These bills will also be heard by the House Agriculture & Livestock Committee on Wednesday.
Take Action – Come to the Agriculture & Livestock Committee Hearing
DATE: Wednesday, April 10, 2013
TIME: 8:00 am – 10:00 am
LOCATION: Capitol Extension, Room E1.010. Click here for maps.
PARKING: Parking is usually available at the Capitol Visitors Center, located between Trinity and San Jacinto Streets at 12th and 13th. You can find a map and other options also listed here.
WHAT TO DO: Come to the hearing room between 7 am and 9 am, and sign in at a kiosk saying you support HB 1382 and HB 1393. (The kiosk may be open after 9 am; we will post updates on our Facebook page.) You'll be listed on the witness list even if you leave right after that. The witness list is important because, when the bill goes to the full House after the hearing, the Representatives will look to see how many people were witnesses for or against the bill. Just 15 minutes can have an impact!
If you can stay for the hearing, sign in at the kiosk in support of the bills and then grab a seat. Simply being there and helping to fill the room with bodies who are watching the hearing in person makes an impact on the Committee members.
If you want to testify, please email Judith@FarmAndRanchFreedom.org, and we can explain the process in more detail. The legislators have to hear many bills, and it is important that we keep our testimony short and focused on the bills, to respect their time.
SIGNING IN: The Texas Legislature now uses electronic witness affirmation forms which are available at registration kiosks located throughout the Capitol Extension. Take the elevator down to Floor E1, and walk down the main hallway about halfway. Turn down one of the side hallways, then turn again so that you are going parallel to the main hallway. You'll see little alcoves, where there used to be pay phones — the kiosks are in there. There is sometimes a portable kiosk immediately outside the hearing room (E1.010) as well.
Be sure to bring this information with you:
The committee: House Agriculture & Livestock Committee
Hearing date and time: April 10, 2013 – 8:00 am
The bill numbers: HB1382 and HB 1393
Position: For and Not Testifying (in most cases)
If you have any questions that day, please feel free to call or send a text message to Patrick Fitzsimons at 210-394-3977.
Can't Come to the Capitol? You Can Still Help!
No matter where you live in Texas, you can help support the cottage foods bill at the hearing this week:
1.) Call or email your State Representative to urge him or her to co-author HB 1382 and HB 1393. You can find out who represents you at www.fyi.legis.state.tx.us or by calling the Texas Capitol Switchboard at 512-463-4630.
Sample email: "My name is ___, and I am a constituent. I urge you to co-author HB 1382, the sampling bill, and HB 1393, the separate building bill. I am a ______ (consumer of local foods, farmer who wants to make value-added products, home baker — briefly explain who you are and why you care about this issue). Please show your support for small businesses and consumer choice by co-authoring HB 1382 and 1393."
2.) Then email all of the Agriculture Committee members to urge them to approve the bills as soon as possible. The list of Committee members and their email addresses are at the end of this alert.
EXTRA ACTION: HB 1306, the bill to provide for fair property tax treatment for urban farmers, community gardens, and vegetable growers, is still pending in the Agriculture Committee. In your email to the Committee members, add:
"I also urge you to vote to approve HB 1306, the property tax bill by Representative Eddie Rodriguez, as soon as possible. Farmers should all get a fair chance at agricultural valuation, regardless of what they grow or the size of their farm."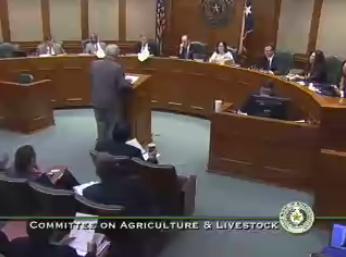 Members of the Texas House Agriculture & Livestock Committee
If you live in one of these districts, it is particularly important that you take a couple of minutes to call your Representative! Constituent calls really have an impact on Committee members. If not, then call your State Representative and email the Committee members.
Charles "Doc" Anderson, Vice-Chair (Part of McLennan County – Zip Codes 76524, 76557, 76630, 76633, 76638, 76643, 76655, 76657, 76682, 76689, 76701, 76705, 76706, 76707, 76708, 76710, 76711, 76712)
Phone: 512-463-0135
Email: Charles.Anderson@house.state.tx.us
Mary Gonzalez (Part of El Paso County – Zip Codes 79836, 79849, 79907, 79927, 79928, 79936, 79938)
Phone: 512-463-0613
Email: Mary.Gonzalez@house.state.tx.us
Kyle Kacal (Falls, Limestone, and Robertson Counties. Also part of Brazos and McLennan counties – Zip Codes in Brazos 77803, 77807, 77808, 77840, 77845, 77868; McLennan 76624, 76640, 76664, 76682, 76691, 76704, 76705, 76706, 76707, 76708, 76711)
Phone: 512-463-0412
Email: Kyle.Kacal@house.state.tx.us
Rep. Kacal is the sponsor of HB 2311, on Animal ID. Be sure to say thank you, while asking for his support of the local foods bills.
Tracy King, Chair (Dimmit, Frio, Uvalde, Zapata, and Zavala. Also part of Webb County – Zip Codes 78041, 78043, 78045, 78046, 78344, 78369 )
Phone: 512-463-0194
Email: Tracy.King@house.state.tx.us
Tim Kleinschmidt (Bastrop, Caldwell, Gonzales, Karnes, and Lee Counties)
Phone: 512-463-0682
Email: Tim.Kleinschmidt@house.state.tx.us
Drew Springer (Childress, Collingsworth, Cooke, Cottle, Crosby, Dickens, Fisher, Floyd, Garza, Hall, Hardeman, Haskell, Jack, Kent, King, Montague, Motley, Stonewall, Throckmorton, Wheeler, Wilbarger, and Young counties)
Phone: 512-463-0526
Email: Drew.Springer@house.state.tx.us
James White (Hardin, Jasper, Newton, Polk, and Tyler counties)
Phone: 512-463-0490
Email: James.White@house.state.tx.us