Texas HB 1643 would classify Confined Animal Feeding Operations (CAFOs) as "critical infrastructure," in the same category as power plants and petroleum refineries.
What does this mean?
It would be illegal to simply fly a drone over any CAFO in Texas, even if you don't take pictures;
Flying a drone over a CAFO would be a Class B misdemeanor, punishable by jail time;
Even university researchers would not be able to take pictures of CAFOs for academic and research purposes.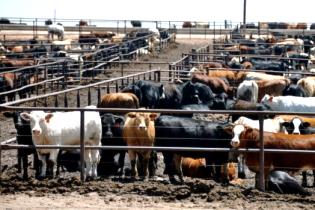 Help us stop this new variation on the Ag-gag laws!
It is already illegal to take pictures of private property in Texas. Not only is taking drone pictures of private property a misdemeanor, but the individual or property owner may bring a civil suit against the person operating the drone, with penalties of $5,000 to $10,000, plus actual damages and attorneys' fees.
But HB 1643 would mean that, instead of facing fines, people who take drone pictures of CAFOs could go to jail.
CAFO operators are worried that drones will uncover problems that they don't want the public to know about: http://www.progressivedairy.com/news/industry-news/drone-wars-what-s-the-law-on-shooting-trespassing-drones
Because here's the real kicker: HB 1643 would block any academic research of CAFOs that uses drones. Less than two years ago, Texas Tech released research showing the antibiotic-resistant bacteria were 4,000% higher in the dust downwind of CAFOs than in the dust upwind of these facilities. And just last week a federal appeals court noted that "people have become seriously ill and even died" from emissions when CAFOs agitate their manure lagoons.
CAFOs are not "critical infrastructure." CAFOs are private businesses that deserve the same protections – no more, no less – than other private businesses in our state.
TAKE ACTION #1: Contact your State Representative
Call or email your State Representative to urge him or her to oppose HB 1643. A phone call has the greatest impact; remember to keep the conversation polite and to-the-point.
You can find out who your State Representative is by going to www.fyi.legis.state.tx.us  or calling the Texas Capitol Switchboard at 512-463-4630.
If you call after hours, you can simply leave a message:
"Hi, my name is ____, and I am a constituent. I am calling to urge Representative ______ to vote NO on HB 1643, which would ban flying drones over animal feeding operations. While the livestock industry as a whole is vital to our state, individual CAFOs are not. They are simply private businesses, and it is wrong to make it a jail-able offense to simply fly over them."
If you prefer email, your Representative's email address is FirstName.LastName@house.texas.gov.
TAKE ACTION #2: Email the Calendars Committee members
HB 1643 has been approved by the House Committee on Homeland Security, so the next step is for it to be scheduled for a vote of the full House. The Calendars Committee is responsible for scheduling bills, so tell them you want them to put a stop to HB 1643!
Email addresses for Calendars Committee members:
roberto.alonzo@house.texas.gov, trent.ashby@house.texas.gov, byron.cook@house.texas.gov, sarah.davis@house.texas.gov, Charlie.geren@house.texas.gov, helen.giddings@house.texas.gov, donna.howard@house.texas.gov, todd.hunter@house.texas.gov, kyle.kacal@house.texas.gov, ken.king@house.texas.gov, linda.koop@house.texas.gov, poncho.nevarez@house.texas.gov, chris.paddie@house.texas.gov, dade.phelan@house.texas.gov, toni.rose@house.texas.gov
Message to Calendars Committee members:
"I am opposed to HB 1643, which would ban flying drones over animal feeding operations. While the livestock industry as a whole is vital to our state, individual CAFOs are not. They are simply private businesses, and it is wrong to make it a jail-able offense to simply fly over them."