As we alerted you earlier this summer, the Texas Department of State Health Services has undertaken a campaign of aggressive enforcement against raw milk farmers and their customers.
This situation poses many problems for local food producers and consumers – whether you drink raw milk or not:
The use of law enforcement to intimidate consumers.
Changing the enforcement of the law based on a change in agency personnel – even though nothing has changed in the regulations and no illnesses have occurred.
Government harassment of producers based on complaints filed by competitors, not the public.
We're already seeing the latter two cropping up with other types of local foods (although not as dramatically as with the raw milk busts).
This needs to stop. The health departments should be focusing on actual health risks, not using complaints from competitors as excuses to harass small local farmers and their customers.
FARFA's been active in developing legal arguments, talking with agency officials and legislative staffers, consulting with the farmers, and more.
Now we need your help.
TAKE ACTION!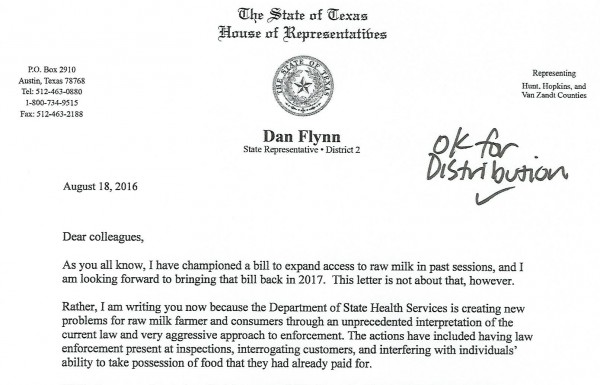 Representative Dan Flynn is asking his fellow legislators to join him in a letter to the Commissioners of the Department of State Health Services and Health & Human Services, urging them to treat raw milk farmers and consumers fairly and to stop the unwarranted harassment.
The more legislators who sign on to this letter, the greater the impact it will have.
Call your State Representative and your State Senator, and urge them to sign Representative Flynn's letter.
Call 512-463-4630, and the Capitol Operator can connect you to your legislators' offices, or
Find out who your legislators are online at www.fyi.legis.state.tx.us.
The message, by phone or email, can be very brief: You are a constituent and you want your legislators to support fair treatment of small local farmers, and their customers, by signing on to Representative Flynn's letter to the state health department.
Feel free to add more of your personal story and perspective, but it can be very short, simple, and quick! You can also send them our fact sheet, below.
BACKGROUND:
In May, a group of raw milk customers in Austin went to a private home to meet the courier that they had hired to pick up their milk, and were met by four inspectors from the City of Austin Health Department and Texas Department of State Health Services (DSHS), plus two policemen.
The inspectors told the customers that they could not take possession of the milk, ignoring protests that they had already paid for that milk. They interrogated a mother in front of two of her children, until she broke down in tears.
This scene repeated itself over the July 4th weekend in a church parking lot in Katy, this time with sheriff's deputies who had been pulled away from a domestic dispute case.
In both instances, the milk had been purchased from a licensed, inspected dairy. The customers were acting in good faith based on an email statement in 2013 from DSHS in which the agency said it was legal for individuals to purchase milk at the farm on behalf of a group and bring it back to distribute to the others:
It is not a violation of state regulations for a dairy customer to purchase raw milk from a farmer at the farm for themselves and for others as you indicate you are doing for your COOP [sic] (and other members may do for you). It also is not a violation of state regulations for you to deliver that milk to other COOP members or to have them pick it up from you. … As long as the dairy is not delivering raw milk to you, then the dairy is not in violation of their state permit.
In both Austin and Katy, the customers had a written agreement that they each signed with the courier, designating the courier as their agent to act in their stead – a basic legal principle that goes back to the roots of our common law. Individuals can hire an agent to do anything that they can legally do.
Yet DSHS joined with the local health departments to prevent the customers from taking possession of their milk, trying to intimidate the customers by bringing law enforcement with them.
In the Katy case, the inspectors issued a citation and the courier has to appear before the Justice of the Peace tomorrow, on a misdemeanor charge for not having a food establishment license. Yet the health departments don't require FedEx or UPS to be licensed, even though they deliver food to people's homes every day. Under such an interpretation of the regulations, every person who coordinates a bulk order and then divides it up at their house for their community is breaking the law as well. Every CSA drop point that includes anything other than uncut fruits and vegetables (such as eggs, cheeses, baked goods, or even just salad mixes) would also be illegal.
Both FARFA and Representative Flynn have urged DSHS to return to its 2013 position, but so far we've been met with a brick wall. We need more legislators to add their voices on this issue!
MORE INFORMATION
Representative Flynn's Letter:
You can read the letter Representative Flynn sent to his fellow legislators here: Letter from Rep. Flynn.
FARFA's Information Sheet for Legislators:
You can download and distribute a fact sheet that compares DSHS's explanations provided to Legislators, comparing those comments to  information we found in our Open Records requests. Feel free to share it with your legislators.
Thank you for your support of independent farmers and ranchers!
Sincerely,
Judith McGeary
Executive Director
Farm and Ranch Freedom Alliance