---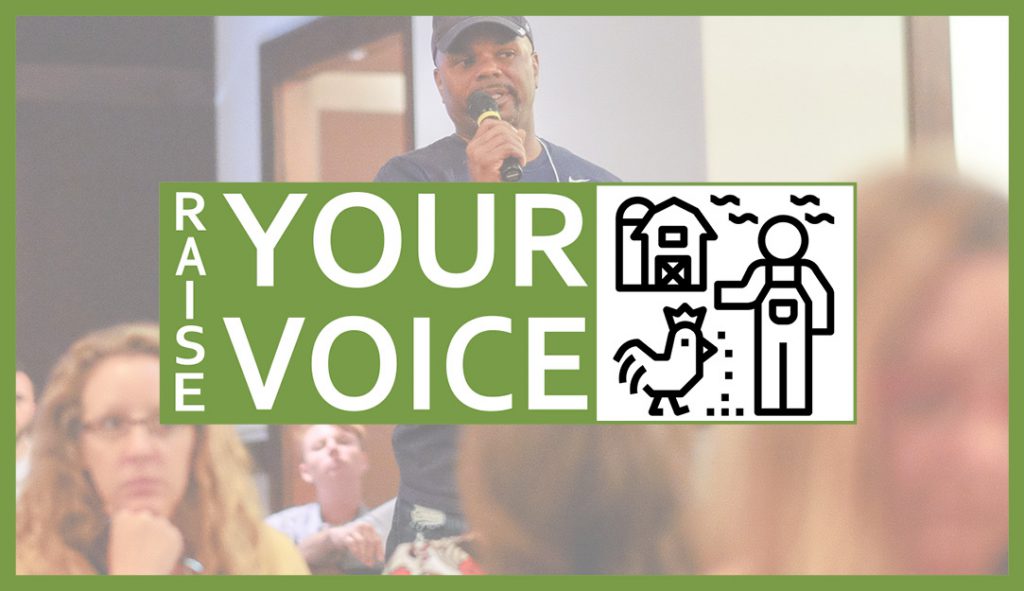 Beginning in January, Farm and Ranch Freedom Alliance will hit the road to meet with and hear from independent family farmers and ranchers across the State of Texas.
This campaign, called "Raise Your Voice," provides opportunities for farmers and local food producers to tell FARFA about the issues most impacting them. Our goal is to visit as many regions of the state as possible over the coming months.
"With a state this size, we can't assume the challenges are the same for farmers in every region," says Executive Director Judith McGeary. Each stop will include a half-day listening session during which she will gather input on policies that are either helping or hindering farmers in running successful businesses. Also on the agenda is an activism training session so that farmers gain skills to have their voices heard at all levels of government.
"The key to FARFA's success in advocating for small farmers is in grassroots advocacy building," says McGeary. "In order to shape the policies that impact local food producers, we need all voices to be heard so we can identify concerns and possible solutions."
FARFA will utilize the information gathered during these sessions, which will continue through the spring, to shape FARFA's work on the federal Farm Bill and to prepare for the 2019 Texas Legislative Session.
As details are confirmed, we will continue to add stops to the Raise Your Voice schedule. Every attempt is being made to make participation low- or no-cost to participants. If you are interested in helping us plan or promote any of these sessions, please email to let us know.
South Plains & Coast
Rio Grande Valley
January 24, 2018, 9 a.m.-4 p.m. | Valley Nature Center | 301 S. Border Ave., Weslaco
Agenda: Morning listening session, 9-11:30 a.m., will be followed by lunch (provided by FARFA), with an advocacy training session 12:30-4 p.m. You may register for one or both sessions. Register here.
Corpus Christi
January 25, 2018
3-5 p.m. Advocacy Training session during Local Food Producers Conference | Del Mar Center for Economic Development | 3209 S. Staples, Corpus Christi
Agenda: Hosted by Grow Local South Texas, the Conference includes an afternoon training session led by Judith McGeary of FARFA. Conference registration is $10-$15. Register here.
6:30 p.m. Listening Session | Bellino's Italian Restaurant | 3815 S. Alameda St., Corpus Christi
Agenda: Join in a farm-to-table meal and share your thoughts on needs for regulatory reform. FARFA will underwrite part of the dinner, so your cost, excluding alcohol, will be $15, payable at the door. Or you may register for the event without dinner.
Register here for listening session plus dinner.
Register here for listening session ONLY.
Northwest/Panhandle
Coming in late February: stops in Amarillo, Lubbock
West Texas
Coming in late February/early March: stops in Abilene, Midland/Odessa, San Angelo
Southeast Texas
Coming in March: Houston
East Texas
Coming in April/May: Tyler
South-Central Texas
Coming in June: Stops in Laredo, San Antonio