(Updated 5/4/2017)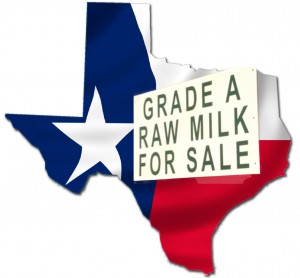 The Senate's Health and Human Services Committee will hold a hearing on SB 95, the raw milk bill, on Wednesday, May 3. Whether you are a raw milk farmer or consumer, or have never even tried raw milk, this bill is important to the local food movement as a whole for these reasons:
Direct farm-to-consumer sales of unprocessed milk can be a lifesaver for many small family farms — we've had many farmers tell us that raw milk is what saved them from going out of farming.
Everyone should have the right to decide what you eat and what you feed your family.
Help support family farmers and consumers' rights — speak up for SB 95! This bill benefits rural economies because direct farm-to-consumer sales of raw milk can mean the difference between a net loss on the farm and a reasonable income for the farm family.
Raw Milk Bill Information
Raw milk is already legal in Texas. There are 45 licensed Grade A Raw for Retail dairies, which are regularly inspected and the milk tested using the same (or higher) standards as for milk in the grocery stores. Yet government regulations require consumers to drive to the farm every time they want milk, burdening both consumers and farmers.
Sb 95/ HB 57 would allow licensed farmers to sell raw milk at farmers' markets and to make delivery arrangements with their customers. This bill reduces costs and difficulties for consumers, while allowing farmers a fair opportunity to market their products.
We came very close to passing this bill last session, and as the Session nears its close at the end of May, we need your support to make this last push for passage in 2017.
Take Action #1
Call or email your State Senator to urge him or her to support SB 95 and help move the bill forward. A phone call has the greatest impact and allows you to find out if they supported the raw milk bill last session (if they were in office). Remember to keep the conversation polite and to-the-point.
You can find out who your State Senator is by going to www.fyi.legis.state.tx.us or calling the Texas Capitol Switchboard at 512-463-4630.
If you call after hours, you can simply leave a message:
"Hi, my name is ____, and I am a constituent. I am calling to urge Senator______ to support SB 95, the raw milk bill, and to help the bill move forward as quickly as possible. I would like to know where my Senator stands on this issue, please. You can call me back at _________."
If you prefer email, your Senator's email address is simply FirstName.LastName@senate.texas.gov.
More information and talking points about the bill are at the end of this alert.
Take Action #2
The Senate Health and Human Services Committee held a hearing on SB 95 on Wednesday, May 3. The bill was left pending, and we're pushing for a vote on it at next week's hearing.
Below is a list of the Senate Health & Human Services Committee members. If you live in any of these Districts, it is vital that your Senator hear from you before next Wednesday! Be sure that you mention that you are a constituent when you call – and then ask everyone you know who lives in that district to call also!
(If you're not sure who your State Senator is, you can look it up at http://www.fyi.legis.state.tx.us/Home.aspx )
Chairman Schwertner: Charles.Schwertner@senate.texas.govm 512-463-0105, Brazos, Freestone, Grimes, Leon, Limestone, Madison, Milam, Robertson, Walker, and Williamson Counties
Vice-Chair Senator Uresti: Carlos.Uresti@senate.texas.gov, 512-463-0119, Atascosa (part); Bexar (part); Brewster, Crockett, Dimmit, Edwards, Frio, Kinney, Maverick, Medina, Pecos, Real, Reeves, Terrell, Uvalde, Val Verde, Zavala Counties
Senator Buckingham: Dawn.Buckinham@senate.texas.gov, 512-463-0124, Bandera, Bell, Blanco, Brown, Burnet, Callahan, Comanche, Coryell, Gillespie, Hamilton, Kerr, Lampasas, Llano, Mills, San Saba, Taylor (part), and Travis (part) counties
Senator Burton: Konni.Burton@senate.texas.gov, 512-463-0110, part of Tarrant County
Senator Kolkhorst: Lois.Kolkhorst@senate.texas.gov, 512-463-0118, Aransas, Austin, Burleson, Calhoun, Colorado, De Witt, Fayette, Fort Bend (part), Goliad, Gonzales, Harris (part), Jackson, Lavaca, Lee, Matagorda, Nueces (part), Refugio, Victoria, Waller, Washington, and Wharton Counties
Senator Miles: Borris.Miles@senate.texas.gov, 512-463-0113, part of Ft. Bend and Harris Counties
Senator Perry: Charles.Perry@senate.texas.gov, 512-463-0128, Lubbock and a large swath of from Childress County down to Mason.
Senator Taylor: Van.Taylor@senate.texas.gov, 512-463-0108, part of Collin and Dallas Counties
Senator Watson: Kirk.Watson@senate.texas.gov, 512-463-0114, Bastrop and part of Travis County