Make your voice heard and have fun!  Come to our Local Foods Day at the Texas Capitol on March 13, 2015 during the 84th Legislative Session.
---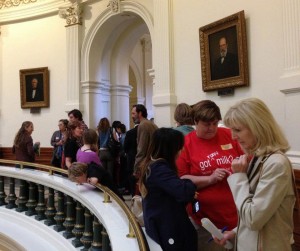 We'll start the day by sharing the latest news on all the bills, from raw milk to home  processing. There will be a short session to teach you the basics on how to meet with legislators. Then we'll connect you with others from your area, and you will meet with legislators from your area in a group.
We know that many people have never met with legislators and may be nervous. Don't worry! It is not hard, and we will walk you through every step. We'll provide fact sheets on the bills — you just need to bring your own personal experience and passion.
And you won't be alone. This is a great way to connect with other people who care about the same issues, and there truly is strength in numbers.
Please share this event with your friends and colleagues, through your email list and social networks. Successful grassroots action takes many people!
For questions about Local Foods Day, email Tamara@FarmAndRanchFreedom.org or call 254-697-2661. For questions on the substance of the bills, email Judith@FarmAndRanchFreedom.org.  More details on time, location, etc., are below.
We'll have fact sheets for each bill available at the lobby day.  If you want to learn about the bills ahead of time, download our preliminary information package.
EVENT DETAILS
DATE: Friday, March 13, 2015
TIME: 9am – 4 pm (The timing is flexible, so you can also come for just part of the day.)
WHERE: Legislative Conference Center, Room E2.002, Capitol Extension, Texas Capitol, Austin.
PARKING: There is reasonably priced parking at the Visitors Parking Lot. [Parking Map]
HOTEL: Due to SXSW, hotel availability is limited.  If planning a stay overnight, please consider areas outside of Austin when looking for a hotel.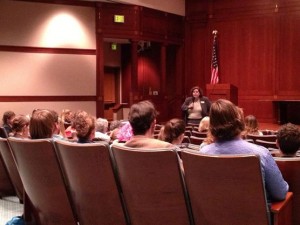 RSVP: Please send your name and the county where you live to Judith@FarmAndRanchFreedom.org by Friday, March 6, 2015.
You are welcome to come whether or not you RSVP'd — this just helps us to plan better to make the day go smoothly!
LUNCH:   Lunch is on your own.  The Capitol Grill is just upstairs from the Legislative Conference Center, on floor E1, making it a convenient way to get some food, socialize, and get back to the meetings.
Making an appointment with your legislators
We want to make sure that you meet with your own Representative and Senator while in Austin.  The best way to do that is to make an appointment ahead of time.
First, call the Capitol Switchboard at 512-463-4630 or go to http://www.fyi.legis.state.tx.us to find out who your State Representative and State Senator are.
When you call the office, introduce yourself and mention the fact that you're a constituent.  Tell the staffer that you would like to meet in person with your legislator to discuss the local foods bills this session.  Be willing to meet with a staffer if the legislator is not available – staffers often have a significant impact.
Example introduction: "Hi, I'm Jane Doe from [CITY].  I'm going to be in Austin on Friday, March 13 for the Local Foods Education day, and I would like to make an appointment to meet with Representative (or Senator) [NAME OF ELECTED OFFICIAL] to discuss the local foods bills.  If he/she is not available, I'm happy to meet with the staff person who works on this issue.  Is someone available on March 13?"
Preferred times: Please try to make the appointment for between 11 am and 3 pm on Friday, March 13.  If it has to be earlier or later, we'll work around it, but it would work best to keep it within that window of time.
RSVP: Let us know whom you are meeting with and at what time!  We will use that to help us plan for the whole day.
Logistics and Schedule for Friday, March 13
When you get to the Capitol, enter the main Capitol building, and take the elevator down to floor E2.  Go down the hallway, and the Legislative Conference Center will be on your right, Room E2.002.
We have divided Texas into 12 "regions", and we'll ask you to take a seat at one of the tables for your region.  We'll have a list of all the counties and what region they correspond to, to make it easy to find your region.
9:00 – 10:30 am: We'll do a short presentation about how to do meetings with the legislators, and explain the highlights of all of the bills.  We'll pass out fact sheets about the main bills, so that you have something in writing to hand to the legislators and staff.
10:30 – 11:00 am: Divide into groups for the meetings.  We want to have groups of 2 – 4 people each.  Ideally, we'll have a farmer with each group, as well as someone who has talked with legislators before.  So the process will start with the folks sitting in each "region" dividing yourselves into smaller groups, and then we can help fill in any gaps.
11 am – 3 pm: Meetings with legislators.  We will hand each group a list of a few legislators from their region, and you'll go do meetings with them or their staff.  When you finish the first couple of meetings, come back and we'll give you more.
3:00 pm:  Gather back at the Conference Center to de-brief, share experiences, and talk about the next steps.
Attire: Dress so that you, and not your clothes, are the focus.  It is best to dress in casual professional clothes, such as dress slacks and button down shirts (men) or blouses (women).  T-shirts promoting local foods or raw milk are OK, but please do NOT have any other "messaging" on your clothes.  Also avoid having a flamboyant or messy appearance.  You want the legislators to focus on the message about local foods and not be distracted by your appearance.  Comfortable shoes are a must.
Preparing Before the Lobby Day

We will have plenty of materials to help you with the meetings, so please do not stress about preparing ahead of time!  A little bit of organizing your thoughts is helpful, if you have a chance:
* Focus on what you bring to the table through your experiences – whether it is as a farmer, a parent, personal journey for health, etc.   Whoever you are, you are the best expert on your experiences.
*  Attached are fact sheets for all of the bills.  Don't worry about learning all of the details!  This is just to give you the background so you can think about which bills matter the most to you.
* We suggest that no one try to cover all the bills during their meetings – there are just too many.  So you should plan to talk about the 2 or 3 or 4 bills that matter the most to you.
*  Make notes for yourself and list the key points you want to make.  Personalize the issue; explain how it affects you, your family, and others in the community.
*    Be brief!  Avoid excessive background – get to the point quickly.  The goal is to explain who you are and/or why you care in just a few sentences.
Special note about bringing children:

Children can be very effective advocates for our movement!  Whatever age your child is, he/she/they are welcome.
If your child is old enough, it is great to have them actively involved in the meeting – it is a wonderful way for children to learn about the civic process, and it makes a memorable impact on the legislators and their staff.  Just remember that while legislators and staff are usually glad to see children, their time is still limited, so please ensure that your child's comments are brief. The goal, as with every participant, is to stay focused on supporting these bills.
Any questions?  Email Lara@FarmAndRanchFreedom.org about logistics, or Judith@FarmAndRanchFreedom.org about the content of the bills or meetings.
THOUGHTS FROM CITIZEN LOBBYISTS
"When first asked who wanted to go to Austin and talk to people about the raw milk bill, none of the children were very excited about going. But the trip to the capitol was made 'mandatory' regardless of level of enthusiasm, since their wise parents knew it would be an unforgettable civics lesson. Once there, they really got into talking with the legislative staffers and were impressed that what they were doing could really have an effect on law-making. At the end of the day, they were all asking when we could come back and talked about their experiences on the long ride home, until they fell asleep exhausted from the excitement and long day."
— The Hutchins Family

---

"Showing up in person creates a relationship and an accountability that our elected officials cannot get away from. The staff is much more responsive to calls and ask for details about what it is we are concerned about. It makes so much difference after the visit, I hope we really fill the halls next time. This is where the changes will be made…face to face."
— Nancy

---

"After my experience the last time, I'm determined to do what I can to support the efforts of FARFA. At the first Family Farm and Local Foods day at the Capitol, I was inspired and impressed by the number, determination and eloquence of the people who showed up. I was encouraged by the general receptiveness and willingness to listen displayed by most of the staffers with whom we spoke. There was one staffer who handled the interview as if there was no way I could understand the complexities of the issue. In response to the topic of changing the way urban farms are taxed, he straight out said 'there's no way that's ever going to happen.'

I was shocked to perceive his narrow view and his unwillingness to consider different options. The up side is that this perception made me realize how very important it is for every citizen who is aware and cares about what's going on with our food supply to become a lobbyist. To speak again and again and again to those who do not want to hear. To hold those who have authority to form public policy accountable for their responsibility to behave responsibly. To let them know that we are aware. That we are watching. That the old days of 'Good Old Boys Doing Business as Usual' are coming to a very quick end."
— Theresa

This event is for our Texas members to affect Texas state laws. You can learn more about how to lobby your legislators, whatever state you are in, on our Tools & Resources page. We can also help you to organize citizen lobbying days in your own state. Contact Judith McGeary at Judith@farmandranchfreedom.org.