FARFA is working hard to protect our local farmers and food producers — please help us keep up this fight by donating during our holiday fundraising drive!
If you join or donate by December 31, your donation and your membership dues will be doubled. Thanks to our generous donors — Hugh Fitzsimons; Pam Walker, author of Growing Good Things to Eat; and Texas Farmers Market (Cedar Park & Mueller) — donations and memberships will be matched up to $4,500!
As we wrap up this year, we're reflecting on what we've achieved in the last twelve months and the people who make our work possible. FARFA doesn't get money from the government or Agribusiness — we are supported by and answer only to the grassroots we represent: our farmers, food producers, and concerned consumers.
Please help keep us going as a voice for independent agriculture by joining or donating today!
If you make a donation before the end of the year, you also get your choice of a special thank you gift: a FARFA t-shirt or DVDs from several of the panels at our 2014 Farm & Food Leadership Conference.
Although only donations above and beyond the membership dues qualify for the end of year gifts, membership dues count towards the matching donation!
"As a farmer, I advise everyone to join FARFA
because FARFA's work helps enlighten not only
farmers, but also consumers who are disconnected
from their food sources, to understand how food
policies can affect the environment, a competitive
market, traditional cultural practices, and our food
security. FARFA takes a truly collaborative approach,
putting a priority on individuals and the community.
I find their work both hopeful and inspiring."

— Kathy Moore, Owner
Anichini Moore Ranch & Farm
Woodward, Oklahoma
With your help, in 2014, FARFA:
Held an intensive Citizen Activism Workshop to give people the skills to be effective activists;
Led the campaign on FDA's re-proposed regulations under the Food Safety Modernization Act (FSMA).
Supported grassroots efforts around the country to protect urban farms and expand access to raw milk and local foods.
Spoke out against corporate power grabs like the Trans-Pacific Partnership (TPP) trade agreement.
Won several victories in the Farm Bill, including the preservation of Country of Origin Labeling.
Support Your Local Food System
Whether you are a farmer, producer, or consumer, it takes more than growing and buying local.

We need to change the rules that favor Big Agribusiness and Big Food over small-scale, local producers. FARFA works to change the laws at the local, state and federal levels to support our local food system!
THANK YOU GIFTS:
As a thank you, we are offering special gifts if you donate in the following amounts (or more!) before the end of the year:
(Please note your size/DVD preference in the special instructions, or send an email to judith@farmandranchfreedom.org)
$25: t-shirt (choice of "Agtivist: One Who Fights for Food Freedom" or "The Revolution Will Not Be Pasteurized: Drink Raw Milk!")
$50: choice of 2 DVDs from the 2014 Farm & Food Leadership Conference* (or t-shirt)
$100: set of all 4 DVDs from the conference (or 2 DVDs + t-shirt)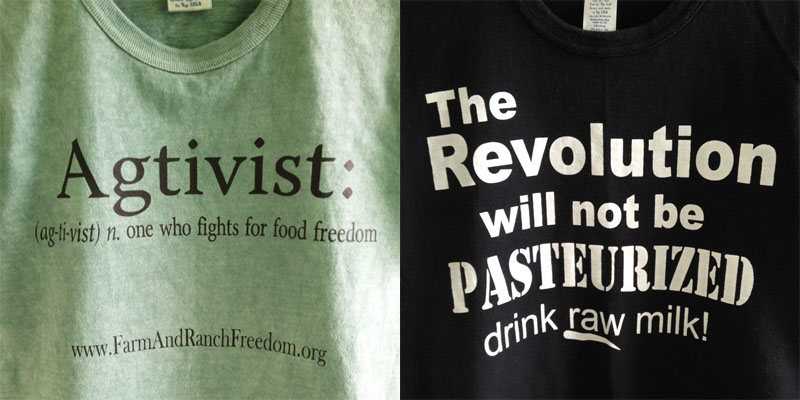 *DVDs from the 2014 Farm & Food Leadership Conference:
(1) Keynote Speech by Jim Hightower AND Breaking Through Concrete: A Survey of Successful Urban Farms;
(2) GMOs: Latest Science & Campaigns Around the Country;
(3) Race, Economics, and Food: Thoughts from Leaders Working in Disadvantaged Communities;
(4) Impact of Agricultural Policy on the Future of Young Farmers
Please consider making a donation to FARFA for the work we do to support independent family farmers and protect a healthy and productive food supply for American consumers.
Our work depends entirely on the financial support of grassroots supporters like you: farmers, ranchers, small-business owners, home food producers, and local food advocates. Help us continue to make sure that the voice of independent agriculture is heard loud and clear!