Published August 31, 2021
The control over our food supply by a handful of large corporations is at the root of so many problems that we face in agriculture.
We need to do something about that.
The lack of infrastructure to support small- and mid-scale regenerative farms, the scale-prejudicial government regulations and policies that push farmers to get big or get out, the lack of research on non-GMO seeds and crops – these are all the result of corporate consolidation in agriculture, and they feed into a cycle where the consolidation just keeps getting worse.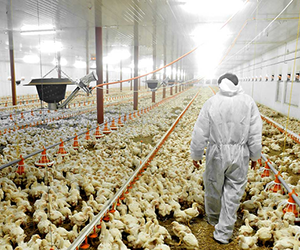 Even though the extreme fragility of these consolidated systems was revealed during COVID, the big corporations are doubling down on the same strategy. Most recently, private protein and grain trading giant Cargill and agricultural-investment firm Continental Grain reached a deal to jointly take over Sanderson Farms, the third-largest chicken processor in the U.S., for $4.5 billion.
If approved, this deal would merge Continental Grain's Wayne Farms with Sanderson Farms to create a new private poultry corporation, increasing the market share of the top three chicken processors from 46% to 51%.
Let that sink in: Three companies controlling over half of the chicken supply in this country.
This comes at a time when major poultry corporations are under investigation for antitrust violations. Pilgrim's Pride pleaded guilty to price-fixing last fall following an investigation by the Justice Department, and federal enforcers have indicted other major corporations and poultry executives. Sanderson Farms was subpoenaed in a federal probe.
Both Sanderson and Wayne Farms face numerous private price-fixing charges, including allegations of conspiring with other poultry corporations to hold down prices paid to farmers and workers' wages across the industry. Cargill is also charged in this wage-fixing suit, as well as private beef and turkey price-fixing allegations. Do these sound like operations you want controlling American's protein sources?
And the problems with the buyout go further. Cargill is America's second-largest private corporation and a major supplier of products to chicken businesses, most critically, the corn and soy that make up the bulk of chicken feed. Feed represents roughly 75% of Sanderson Farms' production costs, according to an undated company blog, and feed prices are currently rising. Cargill processes 21% of all U.S. soybeans and shared 87% of all wet corn milling with two other corporations in 2011. By buying a major poultry processor, Cargill will further strengthen its ability to pay farmers less for their grain and protect its own poultry production even while its competitors have to pay higher prices.
What now?
Senator Chuck Grassley (R-IA) has urged the Department of Justice (DOJ) to investigate this deal for risks of increased costs or decreased choices for consumers (see Grassley raises red flags on Cargill, Sanderson merger | Farm Progress). The first step that needs to happen is for the DOJ to do a "second request" for more information from the merging companies. If the DOJ doesn't issue this second request, the deal can be completed without delay. The second request creates more time for DOJ to get additional information and decide if they want to file a lawsuit to block or modify the merger.
The DOJ doesn't really have a mechanism for individuals to provide input – but you can still make your voice heard!
---
TAKE ACTION
1.) Call your U.S. Representative and urge them to contact DOJ in support of Senator Grassley's request for an investigation into this deal.
You can look up who represents you here.
2.) If you live in Texas, ask Texas Attorney General Ken Paxton to contact the Department of Justice and urge the DOJ to issue a second request for more information to extend the review of this proposed deal. The DOJ needs this additional time and information to comprehensively examine the impacts the deal would have on producers, consumers, and workers in Texas, where Sanderson Farms and Wayne Farms both have a significant presence.
You also can submit an online comment to the Texas Attorney General's Office online.
For both messages, you can keep it short and simple. Share your name, where you live, and a few sentences about why you are concerned about this latest move towards more corporate consolidation.