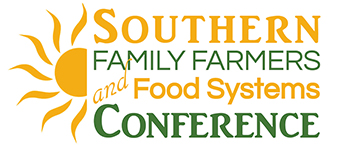 AUGUST 7-9, 2022
San Marcos, Texas
General Info | Program | Speakers | Exhibitors | Sponsors
Event Hosts | Event Venue | Scholarships | Registration
---
2022 KEYNOTE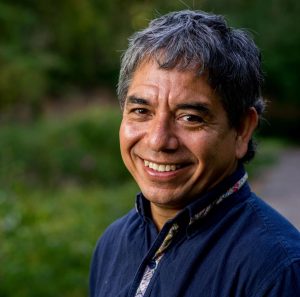 REGINALDO HASLETT-MARROQUIN has long been inspired by regenerative agriculture, beginning with his upbringing as the son of farmers in rural Guatemala. His father's success in raising diverse crops, rather than mimicking the monoculture crops that surrounded them, inspired his life's journey.
Today Regi is president of the Regenerative Agriculture Alliance, a Minnesota-based organization that creates partnerships within agricultural supply chains, with a focus on regenerative practices and ecosystem management. But he is perhaps best known as founder of the Regenerative Poultry Cooperative which includes 22 small-scale farmers in Southern Minnesota and Iowa who work together to successfully compete against factory-farm size chicken operations.
The co-op incorporates Regi's free-range model of feeding chickens natural diets in small forests and processing them in a cooperatively shared processing facility, then selling them as "Tree Range Chicken" to stores and restaurants. In short, all of Regi's work reflects his commitment to building regenerative food and agriculture systems that deliver social, economic, and ecological benefits.
He is also the author of the book In the Shadow of Green Man; My Journey from Poverty and Hunger to Food Security and Hope. In it, he tells the stories of his upbringing in revolution-torn Guatemala and shares a vision of a regenerative form of farming that uplifts people.
---
ADDITIONAL SPEAKERS
MICHELLE AKINDIYA is the Education Director for Farmshare Austin. Since 2017, she has been teaching Farmer Starter, a 20-week beginning farmer training program on a 10-acre certified organic vegetable farm just outside Austin. Farmer Starter is designed to provide a strong foundation in production and business skills needed to run a successful farm.
Michelle began farming in 2005 when she took her cat and bicycle to live in a barn on a Wisconsin farm to escape Chicago city life. She managed Salute! Farm and Vineyard, a vegetable CSA and red wine vineyard in Woodstock, Ill., 2006-2009, then moved back to Austin to learn how to grow food in this challenging climate while raising 2 daughters. Since then, she gained experience in urban farming, greenhouse management, managing a micro-grocer specializing in local foods, and foraging for local food for restaurants before scoring her dream job at Farmshare.
---
AYESHA ALI is the Federal Policy Coordinator at Kiss the Ground, working primarily on the Regenerate America™ campaign, a grassroots effort to ensure support for regenerative agriculture within the 2023 Farm Bill and beyond. Ayesha has a background in research, political ecology, and communications, having previously worked in the environmental communications department at the Prime Weber Shandwick agency.
She holds an M.A. in Global Environmental History with a focus on agricultural production and global food supply chain policies. While in school, Alesha specialized in California's 20th-century water policy and the contemporary groundwater crisis.
…
---
LEE ALLBEE owns and manages SouthwestFarms with his wife Fiona. They produce vegetables, beef, eggs, hay, pecans, and fruit. The farm of 80 irrigated acres is located 30 minutes south of downtown San Antonio.
In addition to growing great tasting food that regenerates the soil, the couple produces portable livestock shelters and custom-plant cover crops for use across Texas.
…
…
…
---
BRITNI BECK serves as International Market Specialist for the Intertribal Agriculture Council's American Indian Foods Program and resides in Bartlesville, Okla. She is a citizen of the Iowa Tribe of Kansas and Nebraska and a graduate from the Grain Science Department at Kansas State University. She currently pursues a Master of Legal Studies degree from the University of Oklahoma College of Law with focus on Indigenous Peoples Law.
Britni's broad background in agriculture includes farming, ranching, and grain milling where she has gained experience in many aspects of operations, regulatory compliance, and business development. She is excited to connect farm to table by developing partnerships, relationships, and opportunities to further elevate Indian agriculture and the next seven generations.
---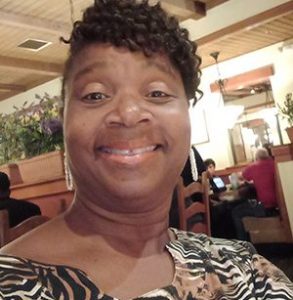 KAY BELL is a certified herbalist, a root-ologist, and a tea-ologist. Devoted to all of nature and earth, Kay, runs a farm in Waco, Texas, where she grows herbs to sell. She currently sells her teas in two grocery stores in Waco and at two farmers markets.
Kay is the president of Texas National Women in Agricultural Association and the founder of Global Revive, an organization created to inspire people to grow their own gardens and to eat from the earth.
Kay is the membership chairperson for the Landowner Association of Texas and travel coordinator for the Waco Rose Society.
…
---
FELICIA BELL has worked as a Sustainable Agriculture Specialist at the National Center for Appropriate Technology Gulf States regional office in Jackson, Miss., since 2013. Bell, a 4th-generation farmer and founding member of RD&S Farm, LLC, is fascinated by traditional agriculture strategies of all cultures, especially African farming methods and techniques. She was born into agriculture and what most people today would refer to as homesteading.
Bell's deep-rooted values in helping others have been the driving force in her assisting communities. Over many years, she learned several appropriate technologies (i.e., methods and practices) to assist small-scale producers with resourceful and inexpensive solutions to lessen costs and increase the viability of farms. Bell believes everyone deserves the right to access healthy foods, and with the collective effort of small sustainable farmers across the country, this can become a reality.
---
KYLE BINGHAM is Managing Partner for Bingham Organic Farms and Bingham Family Vineyards and Winery. The Bingham family was one of the first organic cotton growers in Texas, instrumental in the establishment of the Texas Organic Cotton Marketing Co-op. Among the first grape growers on the High Plains, Bingham Vineyards was influential in developing viniculture as a thriving industry for their community.
Continuing the tradition of diversification, Kyle began exploring hemp as a rotational crop option in 2019, and since has hosted extensive on-farm trials for hemp fiber and grain. As President of the Texas Hemp Growers Association, Kyle has built an international network and developed a reputation for his knowledge across the entire value stream of industrial hemp, from genetics and agronomic practices to end-product development. In addition to serving on the committee that develops standards for cannabis, its products and processes, Kyle serves on the working committee for the newly established Federation of International Hemp Organizations.
---
TABITHA CARROLL was born and raised in Texas, immersed in self sufficiency homesteading, including home harvest of meats. As an adult she spent 10 years as a hunting guide and skinner at a local exotic hunting ranch. There, she learned of the dire need among producers for mobile butchery, and as a result, Cearbhall Home Slaughter Services LLC was launched in 2016.
The self-contained processing trailer travels to various farms to keep stress on animal and producer as low as possible. They also teach classes for anyone wanting to learn how to process their own meat.
…
…
---
TARA CHAPMAN is owner of Two Hives Honey, a honey and beekeeping education services company. Tara came to beekeeping later in life: She spent the first 10 years of her career working with the U.S. government, with most of her focus on intelligence gathering in Pakistan and later oversight in Afghanistan. A fateful beekeeping class inspired a career change, and you can now find Two Hives Honey at Whole Foods stores and high-end markets across Central Texas.
Two Hives Honey is also committed to educating our community and wannabe beekeepers about sustainable beekeeping practices. You can plan a visit to her Honey Ranch just east of Austin. Website: www.twohiveshoney.com Instagram: @twohives
---
ORA CHISOM is an entrepreneur, certified trainer, business success strategist, and speaker with a passion for business and technology. She's worked 20-plus years in the public and private sectors, building a wealth of business expertise.
As the CEO of Chisom Enterprise Consulting Services, Ora assists entrepreneurs achieve success by ridding themselves of limiting beliefs and by adopting a CEO mindset to start, run, and grow the business of their dreams and to multiply their earning potential. She is also the host of newly launched podcast, "Biz Talk with Ora," where she talks all things biz and spotlights small business owners.
…
---
SARAH & SYLVAIN CLAVIERES view their Talking Tree Farm in Schertz, Texas, as a complete ecological system – collaborating with partners to form a cooperative, grow a diversity of foods, share resources, and build the regenerative agriculture movement together. All the farmers produce in a way that nurtures the soil and the community. Currently, Sarah and Sylvain are adding cut-flower and heirloom seed-saving gardens, while growing in greenhouses and managing the farm's food forest, utilizing knowledge Sylvain has gained during 15 years of permaculture practice.
They also operate Compost Queens, an on-site composting facility, that completes the cycle by turning organic waste from San Antonio into nourishment for the soil. Their mission is to empower local farmers, minimize greenhouse gas, protect soils, and provide healthy food to the community. All their work reflects a belief that "nature is perfect."
---
JOSHUA COLEMAN serves as the State Outreach Coordinator for Farm Service Agency in Texas. In this role, he is responsible for program planning, implementation, and development of policies and procedures necessary to deliver the outreach and communications programs.
He has worked with the U.S. Department of Agriculture's Farm Service Agency for four years. Joshua earned his bachelor's and master's degrees in Agricultural Economics from Alcorn State University in his native state of Mississippi.
.
.
---
LUCILLE CONTRERAS is CEO and founder of Texas Tribal Buffalo Project, created to restore the traditional relationship between the Lipan Apache and their relatives, the Bison, with a goal of providing the indigenous communities of Texas a pathway to tribal and food sovereignty. Lucille is the daughter of Lipan Apache and Mexica parents. She currently works as an IT system analyst for organizations run by Winona La Duke, a leading influence in tribal lands and sustainable agriculture.
Lucille also works fulltime on her family ranch, obtained through the USDA Farm Service Agency's Beginning Farmer and Rancher loan program. They care for a small but growing herd of bison on 77 aces. She holds a bachelor's degree in Fine Arts from University of Colorado, Boulder, is a member of Grupo Tlaloc Aztec Dancers, and a member of the Texas Bison Association. She also serves on the board of directors for the Lipan Apache Women Defense organization
---
BLANCA ESTELLA DELGADO is currently serving as Cooperative Development Specialist for the University of Texas Rio Grande Valley at the Texas Rural Cooperative Center under The Center of Sustainable Agriculture and Rural Advancement. Blanca previously served as Executive Director of a local nonprofit organization where she gained co-op development experience.
Her work has included developing technical assistance and training curriculum for low-wage immigrant workers to pursue cooperative entrepreneurial projects. Blanca initiated a groundbreaking program to create a cooperative of small-scale artisan businesses, all of which are owned by Hispanic women.
…
---
DIANA GARCIA-PADILLA is co-owner (with husband, Saul Padilla) of Yahweh's All-Natural Farm and Garden, a USDA Certified Organic farm. She is also founder of HOPE for Small Farm Sustainability, a non-profit organization in the Texas Rio Grande Valley. A self-taught entrepreneur, born and raised in Chicago, Diana has experience in the restaurant industry and business management.
The mission of HOPE is to foster and expand interest in organic and natural local food production. HOPE accomplishes this by utilizing on-farm training workshops, online videos, and in-person presentations to train farmers in production methods and steer them toward technical and funding resources.
---
E. RAY GARD was born to a farm and ranch family in New Mexico and has been involved in agriculture ever since. He has worked in community development and has taught organic farming and other regenerative land use practices for over 20 years. His focus  – whether as a consultant in regenerative agriculture, as a small business owner, or as a current faculty member at Texas State University – is on helping his community use what they have to maximize profit and build healthy soils and even healthier communities.
While serving as a Peace Corps volunteer, he became interested in culinary mushroom production and mycology as a means for small-scale farm operations to diversify revenue streams. After years growing mushrooms for himself and friends, he partnered with friends to start a culinary mushroom operation in collaboration with a small organic vegetable business.
---
DAVID HALE works on his multi-generational family farm in Campbell, Texas, primarily raising pastured broilers. The family's Windy Meadows Family Farm, 60 miles east of Dallas, raises their poultry on pasture and processes them in their small USDA inspected facility located on the farm. David and five other of the eight siblings, plus their parents, run all aspects of the farm business, including hatching chicks, raising and moving poultry on pasture, slaughtering and packaging, delivering product to customers and keeping books.
Windy Meadows Family Farm poultry goes to white tablecloth restaurants, health food stores and family buying clubs in the Dallas area. They also slaughter and process poultry for other producers in the area, from those wanting to sell to farmers markets to those wanting to put their own farm-raised poultry in their freezers.
---
ZACH HALFIN is a longtime professional horticulturalist that has worked in many aspects of the field. He currently manages and is developing a wholesale-scale native and adapted plant nursery near San Marcos, where he currently resides.
Previously Zach has worked as an arborist, attempting ecological restoration, managing production in industrial scale organics recycling, and in landscaping. When Zach isn't playing in the dirt growing things, you can find him at the river.
…
…
---
JUSTIN HALSTEAD is Creative Manager of Video and Nutritional Health Coach for Natural Grocers. Since recovering from obesity, Justin has been on a mission to educate on health and sustainability using the power of story. He produced, directed, and edited "Regenerative Renegade," a film being featured during one of our Conference sessions. It digs into the choices made by a group of ranchers raising cattle using resilient, regenerative, and renegade methods to renew the land and our planet's health.
Justin has filmed, lived, and worked in organic and regenerative systems in the United States, New Zealand, Germany, and the UK. As a certified Health and Life Coach, he helps others on the path to wellness.
---
DOUG HAVEMANN is a U.S. Army Veteran, a former technologist, and co-owner of Mesquite Field Farm with his wife Melissa. Together, they produce grass-fed/finished beef, pastured poultry and turkey, and high tunnel-grown specialty crops. Doug is a long-time FARFA Board Member and worked with Judith McGeary to develop the Profiting from Pastured Animals program for the Council for Healthy Food Systems to assist small- to mid-size producers develop marketing and sales channels to improve revenue.
Doug's farm is one of the two mentor training farms for the Texas AgrAbility Project "Battleground to Breaking Ground" (BG2BG), a project available to veterans, active-duty military, and beginning farmers and ranchers. Its goal is to encourage and enhance sustainable farming and ranching across Texas and the U.S. Doug is on the BG2BG steering committee, Farmer Veteran Coalition Texas Chapter Board, and Small Producer Initiative steering committee. He is Chief Executive of First Shot Distillery, and co-owner of RegeneratIT, an agriculture services company.
---
LORIG HAWKINS founded Middle Ground Farm after farming for 10 years in the central Texas area. Middle Ground is a 10-acre organic vegetable farm that has been in operation since 2020 in Bastrop, Texas. They were one of the co-founders of the Central Texas Young Farmers Coalition, which started as a small grassroots organization in the fall of 2013. Two years ago, Lorig was accepted as a Food Safety Fellow with the national-level Young Farmer Coalition, a position that just renewed for a second year.
It was through this role that Lorig received Trainer status for the Produce Safety Course to guide farmers on how to meet compliance rules under the FDA's Food Safety Modernization Act.
---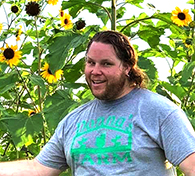 BRENT HEIRONIMUS is the owner/operator of Donna's Farm, located about 15 miles south of Beaumont. He and his team grow seasonal produce and cut flowers using sustainable and organic farming practices. They also have ducks used for egg production and bug control. He sells his products at the Beaumont Farmers Market and on his on-farm stand, plus supplies fresh produce to local restaurants and other consumers.
Brent transitioned to farming after beginning his career in hospitality, running restaurants and country clubs after earning degrees in business and hospitality.
…
---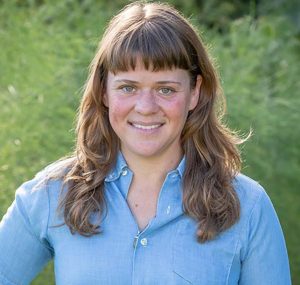 BECKY HUME is the owner/operator of VRDNT Farm, a diversified vegetable farm in Bastrop, Texas, and is the commercial rep with Johnny's Seeds for Texas, connecting growers with the best seeds and varieties for this region. Becky knew farming was her life's work after completing her first farm apprenticeship at the age of 16.
She earned a degree in agriculture from Cornell University and has spent the last 12 years working in various sectors of the agricultural industry. She worked on several cut flower and vegetable farms in the U.S. and abroad before moving to Texas in 2014.
Since then, Becky has managed a 200-acre organic vegetable farm, an aquaponic facility, and a regional microgreens operation.
---
LAUREN ICE is an attorney with the law firm of Perales, Allmon & Ice, P.C. in Austin, which is a public interest environmental law firm that represents a diverse range of clients in many types of environmental matters around the state. Prior to private practice, she served as Staff Attorney with Save Our Springs Alliance in Austin, an organization dedicated to the protection of the Edwards Aquifer, its springs and contributing streams throughout the Texas Hill Country.
Lauren has extensive experience working with non-profit organizations, and her practice areas include water rights, water pollution, and land use and development.
…
…
…
---
JIM KAMAS is an Associate Professor & Extension Fruit Specialist working with grape, tree-fruit and small fruit growers in the Texas Hill Country and around the state. He is stationed at the Texas A&M Extension Viticulture & Fruit Lab in Fredericksburg. He has worked as a research associate and instructor at Texas A&M, commercial fruit grower in Austin County, and Extension team leader for the New York and Pennsylvania Lake Erie Regional Grape Program.
Since returning to Texas in 1996, Jim has worked extensively with grape and other perennial fruit industries to address the needs of large- and small-scale commercial fruit growers. Jim has authored two books, Growing Grapes in Texas and The Texas Peach Handbook. He also has been active in international fruit work in the Caucuses, North Africa, Central America, and across the Caribbean Basin.
---
BILLY KNIFFEN is retired from the Texas A&M AgriLife Extension Service. Serving as a County Extension Agent and as a Water Resource Specialist for more than 30 years, Billy focused on rainwater harvesting and watershed stewardship across Texas and nationally. He is a past president and education coordinator for the American Rainwater Catchment Association, and has conducted educational workshops and installed demonstration rainwater collection systems across the U.S.
He has a small farm where he grows pecans, fruits, berries and vegetables and also has raised sheep, hogs, laying hens, and cattle, providing all the farm and animals dependent solely on rainwater.
…
---
WAYNE KNIGHT has been a rancher for 27 years, using Holistic Management on his family's 11,000-acre ranch in South Africa. He has benefited from many of the tools and principles taught, ranging from Holistic Planned Grazing to the team building and intergenerational aspects of the family business. The Holistic Economic Analysis process saved his business when interest rates spike in 1997.
Whether it is land planning or genetic selection for optimizing soil health, economics or drought risk mitigation in a variable rainfall environment, Holistic Management has played a significant part in his life. Wayne became a Certifed Educator with HMI in 2006 and is currently Executive Director of Holistic Management International.
…
---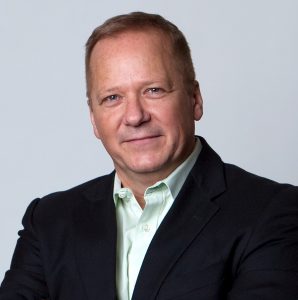 ALAN LEWIS navigates government affairs and food and dietary policy for Natural Grocers, a Colorado-based health food chain founded in 1955 that now has more than 170 stores in 20 western states. At the federal, state, and local levels, Alan engages on hemp, food, agriculture, nutrition, rural economic development, food safety, trade and health issues. He is active in several trade and advocacy organizations and is a fearless writer, speaker and activist.
Alan has been active in several trade and advocacy organizations and a frequent speaker at a range of events. Current and past associations include those with the Non-GMO Project board, Real Organic Project standards board, the Retail Advisory Committee of the American Grassfed Association, and the Farm Policy Committee of the Organic Farmers Association.
---
JIM LOOS learned butchery from his father, who was trained in full butchery by the U.S. Military. An active hunter, cattle rancher, and restauranteur, Jim kept those skills in active service, before becoming the lead butcher for Cearbhall Home Slaughter Services LLC.
The self-contained processing trailer travels to various farms to keep stress on animal and producer as low as possible. They also teach classes for anyone wanting to learn how to process their own meat.
…
…
---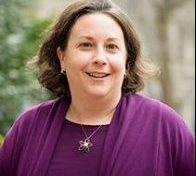 PATTY LOVERA is a food policy consultant who serves as the policy advisor for the Campaign for Family Farms and the Environment, a coalition of state and national groups working to fight factory farms. Previously, Patty helped start and grow Food & Water Watch, serving as their Food and Water Program Director for 14 years.
Before joining Food & Water Watch, Patty was the deputy director of the energy and environment program at Public Citizen and a researcher at the Center for Health, Environment and Justice.
Patty has a bachelor's in environmental science from Lehigh University and a master's in environmental policy from the University of Michigan.
---
ROBERT MACE is Executive Director and Chief Water Policy Officer at The Meadows Center for Water and the Environment and is a Professor of Practice in the Department of Geography at Texas State University. Robert has over 30 years' experience in hydrology, hydrogeology, stakeholder processes, and water policy.
Previously, Robert worked at the Texas Water Development Board for 17 years, including serving as Deputy Executive Administrator for the Water Science & Conservation office. While at the Board, Robert worked on understanding groundwater and surface water resources in Texas; advancing water conservation and water technologies such as desalination, aquifer storage and recovery, reuse, and rainwater harvesting; and protecting Texans from floods. He has a B.S. in Geophysics and an M.S. in Hydrology from the New Mexico Institute of Mining and Technology and a Ph.D. in Hydrogeology from the University of Texas.
---
CHRISTINE MARTIN lives in Leon County, Texas, where she raises clean and nutrient-dense lamb, beef, turkey, and eggs. She has practiced Holistic Management principles and practices since 2016 and coached clients on improving their land, finances, and quality of life, helping them achieve their economic, environmental, and social goals.
Born in Argentina to a ranching family, Christine was raised in Brazil and earned a bachelor's in business at Eastern Michigan University and a master's in agricultural economics at Michigan State. She built a career as an international agricultural commodities trader and an oil and gas trader. Health issues related to diet inspired her to raise her own food, applying Holistic Management practices. As soil health improved, so did production, and Christine developed a direct-to-consumer business, allowing her to quit her corporate career to become a full-time rancher and educator.
---
JOSE "PEPE" MARTINEZ is a Grazing Land Specialist with the USDA Natural Resources Conservation Service (NRCS) in Kingsville, Texas. Pepe, who has worked for NRCS for more than 11 years, had previous range and wildlife experience at Texas A&M Kingsville (where he earned his Bachelor of Science degree) and Sul Ross State University) where he earned his Master of Science).
In his role as an educator, Pepe coached plant ID teams and taught labs in undergraduate and graduate school. At USDA-NRCS he continues to coach FFA teams, work with South Texas Bobwhite Brigade and the Texas Section of the Society for Range Management (TSSRM) Youth Range workshop, having been awarded that organization's "Outstanding Young Professional" award in 2021. He also has worked with NRCS to produce videos in English and Spanish that have been shown during the Hispanic Farmers and Ranchers virtual workshops.  
---
STEPHANIE SHIBA MARTINEZ is a 3rd-generation Japanese-American, born and raised in Texas in the Rio Grande Valley. Shortly after marrying her high school sweetheart, Felo Martinez, a 4th-generation cattleman, they moved to Rancho Santa Fe in Starr County to build a business and raise a family.
They immediately invested in the cattle business, determined to improve the quality and shorten the gap between the producer and consumer. They started with Akaushi Wagyu genetics, then opened a state- and federal-inspected processing facility on the ranch. They have vertically integrated their cattle operation from production to distribution, selling 2F Akaushi Beef directly to consumers, local restaurants, and HEB stores across Texas. www.2fakaushibeef.com
---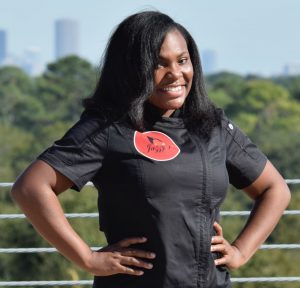 JASMIUNE MATTHEWS, aka, Chef JazzyJ, is a Culinary Institute of America graduate with a bachelor's degree in Business Management and a concentration in Farm to Table. She has a successful business called JazzyJ's Creations, in which she creates and manufactures innovative value-added foods for consumers to use in a fun and easy way.
As a chef in the Houston area, Jasmiune had specific goals in launching JazzyJ's: to transfer as much food knowledge as possible to consumers to aid in making better life choices and a cleaner environment.
Jasmiune also hopes to create happiness and memories through the joy of food and to use her business to build relationships and create unity within local communities.
---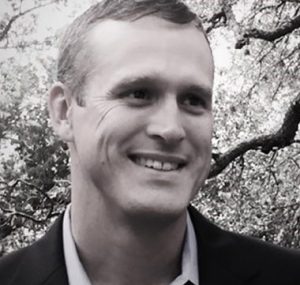 JARRED MAXWELL is a partner and co-founder of Foodshed Investors, providing funding and assistance for small local sustainable food & agriculture entrepreneurs. His path — from the technology sector, to rural real estate and eventually ag finance — allows him to bring a unique perspective to his advisory work with small to medium size food system companies around the country.
Jarred has served as a local leader for Slow Money Austin, and has been an active angel investor in more than a dozen local socially responsible companies. In 2010, he founded The Happy Land Company, specializing in acquisition, restoration, and preservation of rural land. A lifelong Texan, Jarred is also a rancher, managing 400-plus acres of family ranch outside Lampasas.
---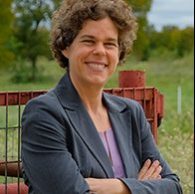 JUDITH McGEARY, the founder and Executive Director of FARFA and the Council for Healthy Food Systems, is an attorney, activist, and sustainable farmer. After earning a bachelor's from Stanford University and a law degree from the University of Texas, she clerked for a Federal Appeals Court before going into private practice. She and her husband became passionate advocates of sustainable agriculture and established their own livestock farm.
She founded Farm and Ranch Freedom Alliance in 2006 to promote common-sense policies for local, diversified agricultural systems. Judith previously served as the Vice Chair of the U.S. Secretary's Advisory Committee on Animal Health and has been active with the Texas Organic Farmers and Gardeners Association, the Weston A. Price Foundation, and the Farm-to-Consumer Legal Defense Fund.
---
MILAN J. MICHALEC retired from the U.S Air Force in 2001 after a 25-year career in Aircraft Maintenance. He has been employed as a Logistics Program Analyst at JBSA-Randolph since military retirement. Milan is serving a 4th term on the Cow Creek Groundwater Conservation District, currently serving as Board President, and has represented Pct. 2 in Kendall County since 2006.
He is a past-president of the Hill Country Alliance – a non-profit organization focused on preserving the natural resources and heritage of the Texas Hill Country. Milan is a Texas Master Naturalist and previously served on the Education Committee, Friends of Government Canyon, at Government Canyon State Natural Area.
---
FRAN MILLER is a senior staff attorney and adjunct faculty member at the Center for Agriculture and Food Systems (CAFS) at Vermont Law School (VLS), where she supervises students in the Food and Agriculture Clinic and leads a variety of projects. Fran focuses predominantly on farmland access, overseeing the expansion of CAFS's Farmland Access Legal Toolkit to better serve historically marginalized communities.
She also serves private clients through CAFS and the clinic, particularly regarding collaborative and community land ownership and business formation. Fran spent many years as a trademark and copyright lawyer, obtained her Master of Laws degree in Food and Agriculture Law and Policy at VLS in 2017, and moved to Vermont from New York City in September 2019 to work at CAFS.
---
BILLY MITCHELL admits that when he's "not daydreaming about spending a perfect August day floating down the San Marcos River with a bunch of Texas farmers, I'm usually working with farmers, hearing some farmers tell some stories, or telling some stories about farmers."
In his various positions, he has provided training, education, and technical assistance to local food producers around the country, identifying creative and cost-effective solutions that make food safety practical for small- and medium size operations. He looks forward to leading discussions about conservation and strategizing ways to increase biodiversity, improve soil health, and lower produce safety risks.
…
---
KEN MIX is a former vegetable producer from central Indiana. He operated a 20-acre commercial produce farm outside of Indianapolis in the 1980's and 1990's.
Ken currently teaches and is engaged in active research on small producer needs, entomology, soil health, crop production, and agriculturally related climate and water resources. He oversees several graduate student projects on those topics and is the Program Director of The Small Producer Initiative at Texas State University. He is currently starting SKM Homestead, a small livestock and mixed produce 50-acre farm in Fentress, Texas.
…
---
TAELOR MONROE is a self-described "wildling." She is deeply passionate about healing our earth, our bodies, and our relationships with ourselves and one another. She revels in growing healthy soils, healthy bodies, and delicious home cooked meals.
Taelor has been teaching Permaculture Design Courses with the Austin Permaculture Guild for a decade and currently design and installs permaculture gardens, food forests, and edible landscaping.
…
…
---
CAROLINA MUELLER is a tenacious cook, gardener, weekend rancher, and food systems practitioner. Having worked in food service, as well as at nonprofits and farms for more than a decade, she is passionate about bridging big-picture policy and people's lived experiences.
Caro is a lifelong learner and earned her Masters of Public Affairs from University of Texas with a focus in agriculture and food systems. She has served as president of the Central Texas Young Farmers Coalition and as a legislative intern for Farm and Ranch Freedom Alliance during the 2021 Texas Legislative Session.
…
---
FLOYD NAULS, JR., is the State Outreach Coordinator and Tribal Liaison for the USDA-Natural Resources Conservation Service in Texas. At NRCS, Floyd manages outreach operations and coordinates with organizations that work with historically underserved farmers and ranchers, providing program information for the planning and application of conservation projects.
Beginning his career as a soil conservationist, Floyd has spent 27 years with the U.S. government assisting rural communities in North, Central, and East Texas. He has provided leadership in resource management and sustainability to local, state, and federal entities, community-based organizations, universities, and individuals. Floyd holds a bachelor's degree in agriculture education and human resources from Prairie View A&M University.
…
---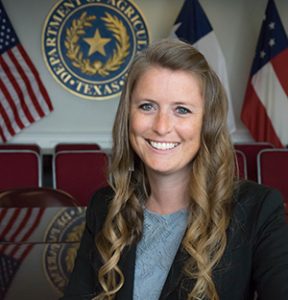 KAT NEILSON joined the Texas Department of Agriculture's grants team in 2018. She is the Texas state point-of-contact for the Specialty Crop Block Grant and Specialty Crop Multi-State program, the Young Farmer Grant, the National Organic Certification Cost Share Program, the STAR Fund, the Agriculture and Research Development Program, and the State Trade Expansion Program.
Her 15 years of grant experience encompasses a diverse background in non-profits including higher education, foundations, and heritage and museum management. Her experience includes the entire life cycle of grants from writing and project implementation to new program creation.
Kat loves to travel and spends her time in the great outdoors camping, hiking, and exploring with her rescue pup, Buddy.
---
MEGAN NEUBAUER graduated with a bachelor's in Biology from Boston University in 2004. After several years working in biotech and scientific research, Megan and her father, Jack Neubauer, created Pure Land Farm in McKinney in 2012. In 2018, they converted Pure Land from a market garden into a seasonal pick-your-own fruit and vegetable farm.
Pure Land Farm uses all organic methods on two acres of thornless blackberries and two acres of annuals. She has served as the Executive Director of the Seed Project Foundation and Creative Director for Wells Hospitality Group since 2016.
…
---
MINH NGUYEN has owned and operated a café in Houston for more than 13 years. Currently, he is Operations Team Lead for The Common Market, also in Houston.
A non-profit organization, The Common Market partners with local Texas farmers to connect them with institutions and communities looking for Texas-grown, healthy foods grown by sustainable producers. The organization also works to educate consumers and source local foods for distribution in local food deserts.
…
…
---
MANUEL PINA, Jr., Ph.D., is President and CEO of Views Unlimited, Inc. (an LLC specializing in grant writing and project management and evaluation) and Instructional Associate Professor Emeritus, College of Agriculture and Life Sciences, Texas A&M University. He has over 30 years of experience writing, managing, and evaluating federal (e.g., USDA, Department of Education, and National Science Foundation) and foundation (e.g., Kellogg, Alfred P. Sloan, and Just Like My Child Foundations) grants.
Currently, he is performing services for Texas A&M AgriLife Extension Service, Texas State University, University of Texas at El Paso, Texas A&M University-San Antonio, El Paso Community College, and Houston Community College.
…
---
PATRICK PITMAN aspires to farm east of Austin, leaving the city with his Aussie after the last of his 4 kids departs home. Meanwhile he teaches business owners (with a special emphasis on growers) how to organize their "front-office" marketing and technology systems.
He was raised in Montana but got to Texas as soon as he could. He built his first ecommerce website for a pecan farm stand in Alabama in 1996. Today he runs an ecommerce services firm at ebusinesspros.com and a WordPress web host at ebusinesswp.com. Listen to his podcast at easierbusiness.com.
……
…
---
DAVID PITRE and his wife Katie are owner/operators of Tecolote Farm in East Austin. Tecolote Farm was the first home delivery CSA in Austin and was one of the longest running in the state at 25 years. No longer full-time farming, David and Katie lease their space to new growers and past employees, Steelbow Farm.
A commercial produce farmer since 1987, David was a student of University of California/Santa Cruz's Agroecology program. He's also grown produce in coastal California and Alaska. David always had a deep appreciation for the land and food, and through many years of farming built an impressive array of skills to complement organic production – mechanical, electrical, construction, plumbing, and his not-to-be-forgotten chili-roasting!
---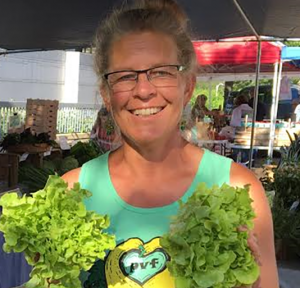 ELLEN POLISHUK is a farm consultant and workshop leader. She leverages her 35 years of biological vegetable farming experience to help growers across the U.S. achieve greater satisfaction and profitability from their farm businesses. Ellen was one of three owners of Potomac Vegetable Farms in Northern Virginia where she grew produce for seven farmers' markets, a 550-member CSA, and two roadside stands.
Ellen teaches growers around the country about soils, compost, labor management, and growing farm profits. Ellen is a co-author of the book Start Your Farm and writes the farmer-to-farmer profile column for Growing for Market magazine.
She lives in suburban Maryland with her husband, where she gardens like crazy.
---
KIMBERLY RATCLIFF is the manager of Caney Creek Ranch, a diversified ranching operation located in East Central Texas, started by her parents Wesley and Marie Ratcliff. Kimberly joined the ranch in 2007 after leaving her job with Bloomberg, a New York City financial firm where she was a Branding Specialist.
Kimberly manages and helps operate the family business, producing registered Charbray Cattle, from which bulls, replacement heifers, semen, and embryos are sold nationally and internationally. The ranch also produces commercial cattle and livestock feed resource. In 2016, Kimberly Ratcliff launched Farm to Freezer Meat Company LLC with the mission to provide high quality ranch-direct beef, in a simple, convenient, and responsible manner. Kimberly is Executive Director of the 100 Ranchers Inc., a Community-Based Organization that serves agricultural producers who work together to improve their livelihood by producing safe, clean, efficient, and marketable products.
---
NOAH RATTLER completed degrees in Mechanical Engineering and Physics at Prairie View A&M University before taking a detour to, as he says, "make an attempt at saving the world." On his circuitous route towards that goal, he found himself growing a garden as he recovered from walking cross-country to raise awareness for homelessness.
The simple act of eating a cantaloupe that he had grown changed his world view and sent him down yet another path, installing gardens for community members and working at Hope Farms Urban Agricultural Showcase and Training Center, growing food for his community, and teaching others to do the same. You can find him walking this path these days out in the fields in Sunnyside, Houston, or on social media philosophizing about things we might do to make the world a better place.
---
SHAKERA RAYGOZA operates Terra Preta Farm, a 20-acre certified organic farm in Edinburg, Texas, where she and her husband grow vegetables and sell them through markets, a CSA, and wholesale. She is a registered nurse and mother of three children and has been farming for 10 years.
Earlier this year, as Technical Assistant at the National Young Farmers Coalition, Shakera testified in front of the U.S. House of Representatives Committee on Agriculture on the role that USDA programs can play in addressing climate change and the need for making these programs more accessible to young and BIPOC farmers. She spoke about her own experiences utilizing USDA programs to build resiliency on her farm and suggested ways these programs could be improved to serve more farmers.
---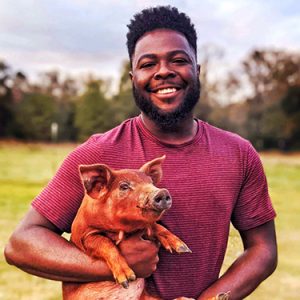 PORK RHYNE, the "Pork Evangelist," is recognized across the country and in East Africa for his work as a livestock educator and local meat marketing professional. As a former multi-species livestock and dairy farm manager with a bachelor's in agricultural education, Pork Rhyne's calling is to train and mentor new and beginner farmers and homesteaders on how NOT to make the same mistakes of countless others during their first three years of farming. He guides farmers to develop confidence, proficiency, and peace of mind in their production, business, and marketing techniques.
Currently he serves as a board adviser for the Niche Meat Processors Assistance Network & NC Choices (Niche Meat Initiative). He has been featured on ABC News' "Localish," PBS-NC's "Resilient Agriculture," and Leah Penniman's "Farming While Black." He has been a featured speaker for Homesteaders of America, Mother Earth News, and The Livestock Conservancy.
---
BEN AND MEGHAN ROBERTS are the self-titled "Soil Shepherds" at Elder Hill Farms in Driftwood, Texas. Their mission is to develop regenerative systems for semi-arid to arid regions adapted to cope with a changing climate. Although Ben was raised on a medium-sized cattle and nursery plant operation in Alberta, Canada, he rediscovered the passion for the land through his role as a leading Sommelier & Wine Educator in Texas. The study of the concept of terroir (sense of place found in wine) was enough to overcome the lure of corporate America and urban bliss.
Meghan's career in Fine Art and Design has also morphed into a personal calling to share her love of things that "grow and go" with families who have lost touch with each other, and the land. Together, with their four children, they now pour their heart and soul into a rocky little corner of Hill Country that is transforming into the Eden they know it can be.
---
BRAD ROEDER is currently working for the Texas A&M AgriLife Extension Service in Gillespie County as the Ag and Natural Resource Agent and lives on the home place with his wife Tiffany and two kids Brylie and Brodie. With the help of their family, they raise show goats, commercial cattle, club lambs & Registered Dorper sheep. In his spare time, he likes to go hunting for mule deer and run around the ranch with his family.
Brad serves on the Gillespie County Fair Board, Grandstand Hill District Youth Show Board, Gillespie County Predator Board, Gillespie County Wildlife Management Assoc, Texas Sheep and Goat Raisers, and The American Dorper Sheep Breeders Society Ex-board. He has employed guard animals for the past 15 years on five different properties of varying shapes and sizes.
…
---
DEYDRA STEANS is a 4th-generation cattle rancher and great-granddaughter of sharecroppers who was raised on her family's San Marcos River ranch in South Central Texas. Deydra took a natural interest in animals and has a knack for homesteading. Today, she is a mother of two beautiful children and the owner of Black Gold Resourcing, LLC, an agriculture consulting and technical services agency providing outreach opportunities and concierge-style USDA program management.
Deydra is a certified Texas educator but transitioned from the classroom in 2018 to work full-time providing technical assistance and program management for multiple livestock operations. Through her agency she assists with access to FSA programs and advocates for diversity and inclusive representation in agriculture across the industry. Deydra is a graduate of the University of Texas at Arlington with a B.A. in Criminology & Criminal Justice.
---
L.D. THOMAS, Esq. is a Dallas native. He received his bachelor's degree in international relations-business and economics from the University of North Texas and his master's degree in public administration from the University of Texas at Arlington. He received his Juris Doctor degree as part of the inaugural class of the University of North Texas College of Law.
Mr. Thomas works as a solo practitioner in Dallas, Texas. His practice focuses on the areas of estate planning, probate, real estate, and small business. In 2020, The Law Office of L. D. Thomas, PLLC was named The Best Law Firm in Black Dallas by the Dallas Weekly.
…
---
TIM TRAISTER is an Austin native and has spent the last 20 years in the lending and real estate industries. For the past 8 years, his focus has been on agriculture finance with a passion for helping small farmers navigate the world of finance.
Tim has worked on over a billion dollars in real estate and loan transactions and is a licensed real estate broker. He currently serves on the board of Farmshare Austin, and in his spare time, manages wildlife and range restoration projects on his family ranch.
…
…
…
---
JUSTIN TRAMMELL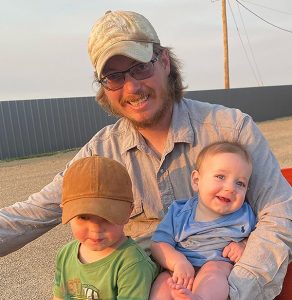 grew up in Canyon, Texas, spending time helping his dad out at feed yards and the Amarillo and Tulia livestock auctions, and with taking care of their wheat-pasture cattle. Justin grew up listening to grandparents on both sides of his family tell of their adventures running small farms in the early 1900s and became fascinated by the idea of having his own small farm. He earned a degree in wildlife biology from West Texas A&M, focusing primarily on the agriculture/wildlife conflict. In college he became involved with the Ogallala Commons, and through its support was able to attend the Quivera Coalition conference and other educational events.
Justin started his farm in 2014 producing chickens, later adding sheep and hogs, and finally partnering with his dad on cattle. He has been president of the Canyon Farmers Market since 2016, and in January opened a micro-processing facility with his dad and brother-in-law. He looks forward to helping provide other communities with a blueprint to begin to achieve food security.
---
KRISZTIAN VARSA is the Working Farms Fund Associate at The Conservation Fund. With a program that launched in 2021, he is supporting the transition of critically threatened farmland to next-generation farmers in Georgia. Employing a buy-protect-sell model, the Working Farms Fund works to protect our most threatened farmland while transitioning the land to the next generation, assisting them to develop infrastructure, access federal programs, and plan for transition to the generation after their own.
Krisztian has a decade of experience in conservation real estate transactions, farmer and farmland support, USDA program implementation, watershed restoration, and program development.
---
IVY WALLS is a budding farmer, community entrepreneur, and creative visionary from Houston. In 2015, Ivy launched Shop the Ivy Files, selling apparel that praises the essence of black and brown communities. Her passion for creating community led her to create social networks such as Undisputed Excellence and Jeeping While Black.
Today, she operates Ivy Leaf Farms, a community farm in Houston that provides opportunities to grow and to access healthy and sustainable foods. Ivy hopes to continue nurturing her community while nurturing the world one initiative at a time.
…
…
---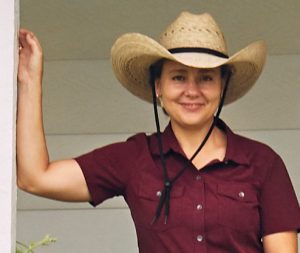 KRISTIN WOODS has served since 2002 in Extension roles focused on community education and economic development in the area of food safety and food systems. Her primary emphasis has been on a holistic approach to the development of farming and food businesses in Alabama. She specializes in helping small farmers co-manage conservation and food safety requirements while creating a financially sustainable business. Kristin is a Produce Safety Alliance Trainer-of-Trainers and has taught Better Process Control School, Seafood HACCP, School (CNP) HACCP, Fruit and Vegetable HACCP, and ServSafe®.
Prior to her Extension experience, Kristin spent five years in the food industry working in process development, quality, and management. She embraces a lifelong love of agriculture and currently owns and operates a small, diversified farm in Southwest Alabama.