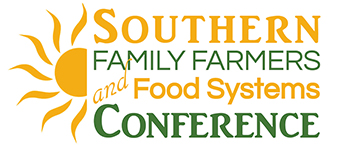 AUGUST 7-9, 2022
San Marcos, Texas
General Info | Program | Speakers | Sponsors
Event Hosts | Event Venue | Scholarships | Registration
---
Check back soon to see all our sessions and workshops!
---
We continue to build our Conference schedule, but in the meantime, please take a look at the sessions we've confirmed so far. Pre-conference workshops are described at the bottom of this page.
---
We'll run several concurrent tracks each day to make sure you find topics of interest to you at all times. Here are a few that we've confirmed so far.
Livestock Track to include:
Vertical integration; from breeding to plate
Raising small ruminants
Meat processing; from brick and mortar to mobile
Poultry production
Crops Track to include:
Varieties for the hot and humid South
No/low-till marketing gardening
Weed and pest pressure management
Cover cropping on small acreage
Soil health and testing
Policy/Social/Economic Issues Track to include:
The next Farm Bill and other federal policies
Steps to take for land ownership: past, present and future
How to influence policies affecting small farmers
The latest on water protection and policy
Finance/Business/Marketing Track to include:
What agritourism can do for your farm
Accessing resources from USDA and beyond
Using social media to market your farm
Pricing to ensure profitability
A primer on permits and regulatory compliance
Others:
Growing and selling flowers and herbs
Securing grants for your farm or organization 
Running a successful cottage foods business
Beginning beekeeping
As always, we'll open the Conference with opportunities to dive more deeply into selected topics. While the workshop schedule continues to develop, these two are confirmed and taking registrations:
Saturday and Sunday, August 6-7
This two-day workshop takes place at Nixon City Hall Conference Center in Nixon, Texas. 
Profiting From Pastured Animals
The Council for Healthy Food Systems presents this workshop to help farmers develop business and marketing skills to sell meat, poultry, and eggs direct-to-consumers. Taught by FARFA/CHFS Executive Director Judith McGeary and owner of Mesquite Field Farm Doug Havemann. Learn more here.
Sunday, August 7
We plan to present a number of in-depth, half- and whole-day workshops. Currently, we've confirmed the following:
Wholesale Readiness (Half-Day)
Farm consultant, writer, and teacher Ellen Polishuk will give you the ins and outs of assessing whether new wholesale markets are a good fit for your business. Find out how to get your farm ready to scale up and make more money when you have to sell at lower prices.