Published March 22, 2021
Just ten weeks to go in the legislative session!

Here's what happened last week: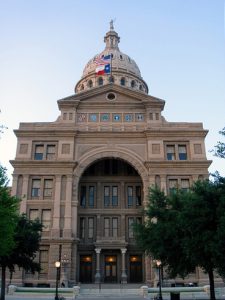 Positive developments on "ag-gag" bill:  As we alerted you, the House Agriculture Committee heard testimony on HB 1480, the "ag-gag" bill, last Thursday. The Poultry Federation had a farmer testify in support of the bill, describing an incident in which activists trespassed in a chicken house, leading to biosecurity and safety concerns.

FARFA's executive director also testified, explaining how incidents like that can be addressed without threatening 1st Amendment rights or damaging consumer confidence in farmers. The bill was left pending, and we are meeting with the bill sponsor this week to discuss possible amendments. You can watch the full hearing at: https://tlchouse.granicus.com/MediaPlayer.php?view_id=46&clip_id=19723. FARFA's testimony starts at 18:30.

Updates on our priority bills:

We spent a lot of time last week working with our bill sponsors on addressing objections to our six priority bills and getting all the information needed for requests for committee hearings. 

We have our first co-sponsor — Representative Wilson has signed on as a joint author on HB 1686, the Home Food Security Act! Keep up the calls to your Reps and Senators to urge them to sign on to all the bills!

•       HB 2397 / SB 1376, to rein in TDA's overreaching and improper inspections of small farms.
•       HB 2619 / SB 1118, the "on-the-ground" conservation program to promote healthy soils practices.
•       HB 2028 / SB 336, to allow farmers to sell ungraded eggs to restaurants and retailers.
•       HB 1652 / SB 617, to clarify the provisions for farmers' market permit fee caps and sampling.
•       SB 867, to allow farmers to use custom slaughterhouses to sell meat by the cut to herd share owners.

Find out who represents you & how to contact them.
---

Coming up this week:
While continuing our meetings about our priority bills, we're also busy at the Capitol engaging on dozens of other bills that could impact farmers, local food businesses, and consumers.

Below are the bills of interest being heard this week. There are instructions in the committee hearing notices on how to testify in person or submit written comments, and you can click on the bill number in the hearing notice to read the bill itself.

Senate Committee on Water, Agriculture, and Rural Affairs will meet for the first time on Monday at 8 a.m. [Read the Committee Hearing Notice here]. The agenda includes several bills of interest:

•       Texas Animal Health Commission: SB 705 by Senator Lucio is the "sunset bill" for the TAHC, which regulates all poultry and livestock animals. The bill makes some good changes to how the agency functions, in particular adding formal advisory groups to replace the informal, "good-old-boy" approach to working groups that the agency traditionally has used. This was one of the key issues that FARFA raised with the Sunset Commission staff, and we are glad to see the bill provisions! Unfortunately, the Sunset bill does not include the changes to the TAHC Commission that we also urged, in order to address conflicts of interest and provide for more representation for all affected animal owners in the state. We will continue to work for those changes.
•       Groundwater: SB 152 by Senator Perry makes multiple changes to how local groundwater conservation districts function, from awards of attorneys' fees to citizens' petition rights. There are some good things, and some troubling things, in the bill as filed. An amended version or "committee substitute" is likely to be presented on Monday, so we'll be analyzing the changes to decide on our position.
•       Oil & Gas Waste Water: SB 601, also by Senator Perry, deals with "produced water," or the water that comes out of the ground as a byproduct of oil and gas production. The bill creates the Texas Produced Water Consortium, a group of universities that will work with stakeholders to reach specific goals, including creating a report on the feasibility of a facility for oil and gas waste recycling. Produced water can raise health and safety concerns when used for things such as irrigating food crops, and the question of who are the stakeholders and how they will be involved in important. This bill will also have a committee substitute that we are reviewing.

Tuesday's hearing in the House Natural Resources Committee includes a good bill, HB 2225 by Chairman King, allowing the Texas Parks & Wildlife Service to "encourage and facilitate the dedication of water rights" in order to maintain or improve instream flows, water quality, fish and wildlife habitat, and bay and estuary flows. It is vital that we recognize water as a long-term necessity, rather than a short-term commodity, and this bill helps protect this vital resource. [Read the Committee Hearing Notice here.] 

Also on Tuesday morning, the House Land & Resource Management Committee will hear HB 2043 by Representative Leman. This excellent bill provides that if land is reclassified as non-agricultural, and thus subject to additional taxes, due to the exercise of eminent domain, then the entity who exercised eminent domain rights is responsible for paying those taxes – not the farmer who was forced into giving up his or her land. [Read the Committee Hearing Notice here.]

House Public Health Committee's Wednesday hearing will include two bills of interest: HB 2213, which would allow meat from exotic animals processed in custom slaughterhouses to be donated to food banks; and HB 1276, which would allow restaurants to sell grocery items (making a pandemic-related waiver into permanent law). Both are positive steps. [Read the Committee Hearing Notice here.]

House Higher Education Committee will meet on Thursday and hear HB 1259, which modifies the program that provides financial assistance for veterinarians that establish their practice in a rural community after graduating vet school. The bill makes positive changes, such as expanding the number of counties that are include in the program. It's a good step to help address the serious shortage of rural veterinarians. [Read the Committee Hearing Notice here.]

Want to stay informed on a bill? FARFA will continue to send out updates on important bills, but as the session progresses and gets more hectic, we can't provide notice of every milestone for every bill. So, if you are particularly interested in a bill, we encourage you to set up your own alert system. Sign up for free on the Texas Legislature Online website. Put the bill on your bill alert list, and you will receive an email whenever it is set for a hearing, approved by Committee, set for a vote, etc.