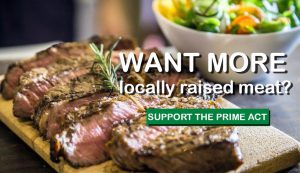 Congress will soon be considering the Farm Bill, so it's time to tell your Representative to support common-sense regulations for local meat production!
In November, we asked you to contact your Congressional representative to urge passage of the PRIME Act, which would make it easier for small-scale livestock producers to sell meat to local consumers. Right now, the best chance for getting that bill passed is to include it in the Farm Bill.
Lack of inspected slaughterhouses is one of the biggest barriers for small-scale livestock producers. The lack of reasonable access to a slaughterhouse keeps some farmers from selling their meat at all. For many more, the distance they must travel to the slaughterhouse means significantly increased costs, as well as stress on the animal and lost time on the farm – all of which means less supply and higher prices for consumers.
Current federal law limits farmers to using either a USDA-inspected facility or a state-inspected facility that meets the USDA standards. The USDA regulations are very expensive and geared towards large-scale operations, which is why we have so few small federal or state-inspected slaughterhouses.
Yet there are also many "custom" slaughterhouses, which are regulated by the States independently of USDA. These custom slaughterhouses process deer and other wildlife for human consumption. They also process cattle, sheep, goats, and pigs for human consumption. But under the current federal law, the meat from an animal processed at a custom slaughterhouse can only go to the person or persons who owned the animal when the slaughter took place.
In other words, you can take your own cow to a custom slaughterhouse, or you and three other people can each share in that cow and get the meat. But if a farmer takes the cow to that exact same slaughterhouse, he can't sell a single pound to customers on his farm or at the local farmers market.
The PRIME Act would empower states to not only set their own standards for custom slaughterhouses, as they already do, but to allow the sale within their state of custom-slaughtered beef, pork, lamb, and goat to consumers, restaurants, and grocery stores.
Passage of the PRIME Act would support small farmers, decrease stress on their animals, and improve consumer access to locally raised meats. Please help us pass this important bill!
---
Take Action
Call or email your U.S. Representative and urge him or her to co-sponsor H.R. 2657, the PRIME Act, and to include it in the Farm Bill.
You can find out who represents you by going to www.house.gov or by calling the Capitol Switchboard at 202-224-3121. Remember, calls are far more effective, and they can take just a couple of minutes! If you send an email, be sure to add a couple of sentences at the beginning to personalize it.
Sample message for calls/ emails:
As a constituent, I urge Representative ____ to co-sponsor H.R. 2657, the PRIME Act, and to work with your colleagues to have it included in the Farm Bill.
This important bill will make it easier for small farms and ranches to succeed financially and provide consumers with greater access to locally raised meats.  The bill simply removes the federal ban on the sale of meat from custom slaughterhouses directly to consumers and venues serving consumers within a state, subject to state law. This returns power to the states to establish a regulatory scheme that makes sense for their citizens.
The PRIME Act is the first step to rebuilding local processing infrastructure, which can revive rural economies and enable communities to become more self-sufficient in meat production.
Please support our local farmers and consumer choice by co-sponsoring H.R. 2657.
Name
City, State
If you are a livestock producer, take a few extra minutes and ask to speak to the staffer who handles agricultural issues. Briefly explain to the staffer any problems you have faced with lack of access to inspected slaughterhouses, and how the PRIME Act would help your business and benefit your customers.
NOTE: If your Representative is already a co-sponsor, be sure to say "Thank you!" when you call.
The original co-sponsors are Representatives Chellie Pingree (D-ME), Justin Amash (R-MI), Kevin Cramer (R-ND), John Garamendi (D-CA), Glenn Grothman (R-WI), Jared Huffman (D-CA), Walter Jones (R-NC), Raul Labrador (R-ID), Zoe Lofgren (D-CA), Tom McClintock (R-CA), Mark Meadows (R-NC), Jared Polis (D-CO), Dana Rohrabacher (R-CA), Mark Sanford (R-SC), and Robert Wittman (R-VA).  They have been joined by Representatives Dave Brat (R-VA), Jason Lewis (R-MN), Bruce Poliquin (R-ME), Andy Biggs (R-AZ), and Steve King (R-IA).