By the end of this week, the U.S. House of Representatives is expected to try a second time to pass its version of the Farm Bill, once it has voted on immigration bills.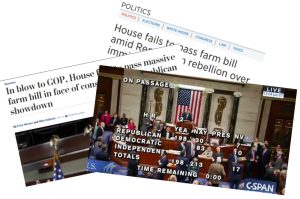 When the House Farm Bill first came up, we urged you to call to seek amendments to address the many flaws in the bill. None of the amendments we sought were adopted, and none will be offered on this vote for reconsideration.
So this time, we're urging you to call your Representative and tell him or her to vote "no" on the Farm Bill.
To put it simply, this is a terrible bill, well beyond the "normal" problems with the Farm Bill. The House version of the Farm Bill:
Eliminates the Conservation Stewardship Program (CSP), which helps farmers pay for measures on their farm that benefit us all by improving water, air, wildlife habitat, and soils.
Eliminates funding for key grant programs that have helped farmers' markets grow and small farmers to diversify their incomes (the Farmers Market and Local Food Promotion Program and the Value-Added Producer Grants Program).
Attacks local control over agriculture by prohibiting any local or state regulation of agricultural practices of any kind as they apply to interstate commerce.
Creates new loopholes to let the largest, richest farms get more government subsidies.
There is a better path. While the Senate Farm Bill isn't great (it largely continues the status quo), it is miles ahead of the House version. We need to tell the Representatives to abandon their version of the Farm Bill and start over using the Senate's approach.
---
TAKE ACTION: Call your U.S. Representative
You can find out who represents you by going to www.house.gov or by calling the Capitol Switchboard at 202-224-3121.
Sample message for calls:
Hi, I'm ___ from ___.   I am a  __________ [farmer, local food consumer, chef.]
As a constituent, I urge Representative ___ to vote no on the Farm Bill. The bill slashes important conservation programs, fails to support local food producers, and attacks local control of agriculture and food. This bill should die and be replaced with a new one that follows the Senate's lead on these important issues.
MORE INFORMATION
Check out the information on our website  at https://farmandranchfreedom.org/2018-farm-bill-issues/#moreinfo for more details on the problems with the House Farm Bill. All these problems remain, because no amendments to fix them were adopted in the first vote in mid-May.