Published April 20, 2021
Six weeks to go, and we have a lot of promising news! The healthy soils bill, SB 1118, passed the Senate yesterday, April 19. And since the House Agriculture Committee has already unanimously approved the companion bill, it's well on its way to becoming law and providing new education, technical assistance, and grant resources for farmers and ranchers who want to build healthy soils!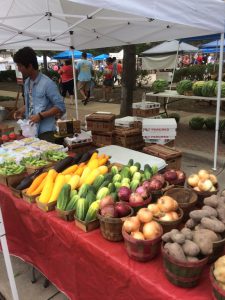 The farmers' market bill, SB 617, had a good hearing in the Senate Health & Human Services Committee last week. Special thanks to Pamela Beito for her excellent testimony (check it out, starting at 41 minutes, in the recording). And the Home Food Security bill – the focus of this week's action alert, below – was approved by the House Agriculture Committee, 8-1. That bill faces stiff opposition, however, which is why we're asking for your calls this week.
First, though, have you wondered why we ask you to make phone calls on some bills and not others?
We devote a lot of time and work during the year between legislative sessions on identifying issues that are important for small farmers and rebuilding a local food system. We craft proposals that will appeal to both liberals and conservatives, do extensive factual and legal research, and work with our allies in the Legislature to draft and get the bills introduced.
At that point, there are several different possibilities. One is that the bill has no real opposition, and we can move it with our behind-the-scenes work: developing fact sheets, visiting each office, briefing the staff. That's where the healthy soils bill is so far this session.
The second scenario is that there is some opposition, but we are in a strong enough position to push through with some additional work and strategic negotiations. This is where the farmers' market bill looks to be at this point.
Note that there are still no guarantees for these bills. Bills die for all kinds of reasons, from conflicts between individual legislators to melt-downs in the entire legislative process as we saw in 2017, situations that many times are simply beyond our control.
In the third scenario, there's significant, powerful opposition. Sometimes we are able to get a committee hearing and publicly air the issues, which typically puts us in a stronger position (as is the case with the home food security bill). Other times, the big-money-interests are able to effectively lock us out of the process because of their influence with a handful of key legislators.
But we don't quit! This is when FARFA's combination of inside-the-building lobbying and grassroots activists become vital. Or, to put it simply, it's where your voice can be the difference between these bills dying or passing into law when you act on the information we provide. And that's when we send you an alert to take action.
---
ACTION ALERT
HB 1686 by Representative Cortez would protect people's right to raise food for themselves on their own property, by preventing cities and homeowners' associations (HOAs) from banning front yard gardens or a few backyard chickens or rabbits. While these activities should bother no one, some cities and many HOAs have a knee-jerk reaction to anything "agricultural." The bill does allow cities and HOAs to adopt reasonable restrictions, such as banning roosters or to prevent odor or pest problems, as long as the restrictions don't reach the level of effectively banning the gardens, chickens, or rabbits.
The bill was heard by the House Agriculture Committee and approved 8-1. The written comments submitted by Texans were overwhelmingly in support of the bill: HB01686H.pdf (texas.gov). But there is opposition from both the Texas Municipal League and the homebuilders' association, which wants to maintain the complete power of HOAs in order to preserve the "image" of the new developments.
As noted in many of the written comments, people have no ability to opt out of HOAs and are often unaware of the restrictions when they buy their home. HOAs should not be allowed to stop people from using their own property for food production, especially given the increasingly widespread awareness of the fragility of the conventional food system!
HB 1686 now goes to the House Calendars Committee, to be scheduled for a vote by the full House. Unfortunately, we know that opponents are trying to ensure that the bill never makes it to the House floor.
We have a great bipartisan list of sponsors: Representatives Cortez, Wilson, Toth, and Hunter. But we need more support to keep the bill moving!
Please call your Representative today and urge them to add their name to HB 1686. If you have a minute, also call your Senator to urge them to sign on to the Senate companion bill, SB 1062.
They are all working very long hours right now, so please be polite, friendly, and brief when you call – just 1 or 2 minutes to share why you think this is important and to ask for their support.
Look up and find contact info for who represents you.
We've updated our Fact Sheet to include recent additions made to address the opponents' objections.