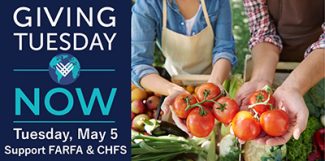 Thank you for supporting FARFA and CHFS! Your gift during this COVID-19 pandemic will help defray the loss of income due to cancelled events and fundraisers.
Your support helps ensure that both our organizations can continue our important work to promote healthy local food systems during this enormous time of need. Thank you!
Both organizations share a staff, but have other expenses that are not shared. So feel free to give to either organization.
Under the recent COVID stimulus laws, people who take the standard tax deduction in 2020 will be able to deduct up to $300 in charitable donations without itemizing. If that tax deduction is important to you, then please know that gifts to FARFA are not tax deductible due to its lobbying efforts; however gifts to CHFS are deductible to the full extent allowed by law.