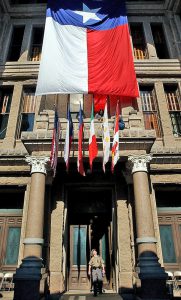 The Texas Legislature is in session for the next 132 days, giving us a narrow window of time to pass meaningful bills to help small farmers & local food producers, and to fight back against the bad ones that we know will appear! It's off to a slightly slow start, but it will be heating up soon enough, once the committees are named in the coming weeks.
Will you help us?
After talking with farmers all over the state last year to find out what's foremost on their minds, we have a very full slate of important reforms that will help producers raise – and consumers to access –  more local foods, more affordably. Two bills have already been filed and have bill numbers, and the others are expected to soon follow:
Expanding the cottage food law to cover pickled and fermented foods, and removing some of the unnecessary restrictions that are in the current law (such as where cottage foods can be sold);
Limiting the fees that local health departments can impose on farmers' market vendors;
Allowing licensed raw milk dairies to sell at farmers' markets and through delivery (HB 503/SB 80);
Making it easier for small farmers, urban farmers, and diversified farmers to get agricultural valuation and lower property taxes (HB 97);
Requiring local health departments to give straight answers to farmers and food producers about what they have to do to comply with the law;
Creating a small farm & rural business ombudsman to help these businesses navigate the maze of regulatory agencies;
Removing the licensing and fee burdens for small-scale flower growers (a wonderful side business for small vegetable producers);
Allowing farmers, cottage food producers, and other farmers' market vendors to provide samples of their foods without expensive permits.
Which of these bills really matter to you?
If your answer is "all of them" – because you want to support local food production and access across the board – great! Find out below how you can help move the entire slate forward, and stay tuned for action alerts in the coming weeks.
If there are one or two in particular that will have a significant impact on your business or your life, are you interested in sharing your story? Personal stories can help us rally support both in the Legislature and on social media. We also need to line up people to testify at committee hearings. If you're interested (whether in having us write up your story, or in sharing it in testimony), please email Judith@FarmAndRanchFreedom.org.
For all the bills:  Make plans for the week of February 18 – 22, Local Food at Home Week!
In the first couple of months of session, legislators are often still in their home districts on Mondays and Fridays, especially on holidays like Presidents' Day.  And with committee hearings just getting underway, the third week of February is the perfect time to draw attention to the whole slate of local food bills.  We're asking everyone to make appointments to meet legislators in their home offices that Monday or Friday. Or schedule a call with your legislator's chief of staff during the week. Stay tuned for more details, including helpful hints on how to make the appointments and handle the meetings.
Find out who your legislators are at https://fyi.capitol.texas.gov/Home.aspx.  Over the next 132 days, we will be asking you, multiple times, to contact your state legislators.  So take a moment and find out who your State Representative and State Senator are right now so you'll be prepared to take action!
---
Want to see more local, sustainably raised foods? We need to change the system from supporting industrial-scale production and anonymous transactions, to one that supports family-scale production and local communities. Each of these bills is a step in that direction.  And with your help, we can move the needle for local producers in Texas in 2019!