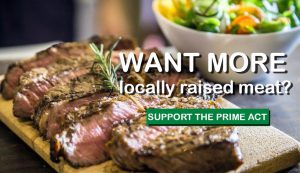 Congress will soon be considering the Farm Bill, so it's time to tell your Representative to support common-sense regulations for local meat production!
In November, we asked you to contact your Congressional representative to urge passage of the PRIME Act, which would make it easier for small-scale livestock producers to sell meat to local consumers. Right now, the best chance for getting that bill passed is to include it in the Farm Bill.
Lack of inspected slaughterhouses is one of the biggest barriers for small-scale livestock producers. The lack of reasonable access to a slaughterhouse keeps some farmers from selling their meat at all. For many more, the distance they must travel to the slaughterhouse means significantly increased costs, as well as stress on the animal and lost time on the farm – all of which means less supply and higher prices for consumers.
Current federal law limits farmers to using either a USDA-inspected facility or a state-inspected facility that meets the USDA standards.
…