The Texas House is scheduled to vote tomorrow on a bill that would impose severe criminal penalties on individuals who "interfere" with what are designated as "critical infrastructure" facilities. Under Texas law, this includes not only things that most people would agree with (such as dams and electric power plants) but also every factory farm and oil pipeline in the state!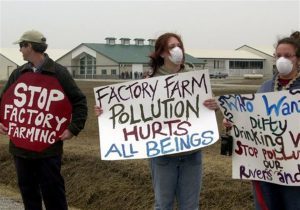 Under HB 3557, any action that impedes, inhibits or otherwise interferes with the operation of a factory farm, pipeline, or other so-called "critical infrastructure facility" would be a second-degree felony.
Please call your Texas State Representative today and urge him or her to vote NO on HB 3557!
HB 3557 threatens Texans' ability to protect their family, property, and community.
Thanks to the eminent domain laws that favor oil companies over landowners, more and more farms and rural properties are being taken to build pipelines. Under current law, people have been arrested on their own land for interrupting pipeline construction even if it's due to the pipeline doing unauthorized damage to their property. Should they now be charged with second-degree felonies for protecting their property?
There are already laws on the books against trespass and criminal mischief. This bill would go too far.
HB 3557 would create new felony crimes and new civil penalties for entering or remaining on the property of one of these facilities, including those under construction. HB 3557 would make defacing such a facility a second-degree felony. Do we want graffiti or putting a sticker on these facilities to be subject to the same punishments as attempted murder?
HB 3557 would impose extreme penalties and could destroy nonprofits.
Corporations or associations–which include nonprofits–that "compensate" someone that participates in these activities could be "vicariously liable," and the bill requires the judge to impose a $1 million fine. This could destroy your company or organization if an employee, or even a volunteer whose travel expenses were reimbursed, trespasses on a property or accidentally blocks a gate during a protest.
Please call your State Representative today and urge them to vote NO on this terrible bill.
---
Take Action: 
Call your Texas State Representative
You can find your representative by going to our 
Elected Official Lookup
 or by calling the Capitol Switchboard at 512-463-4630.
Sample message:
"My name is ___, and I live in [town].  I am calling to urge Representative___  to oppose HB 3557, which imposes severe criminal penalties on anyone interfering with the construction or operation of a critical infrastructure in the state. That includes factory farms and oil pipeline construction sites. This bill would even make it a second-degree felony for a farmer to protect his or her property from a pipeline construction crew that's doing unauthorized damage. I urge Representative ___ to vote 'NO' and help stop this attempt to silence Texas citizens."
Feel free to add a few sentences about why this is important to you.