Tell the San Antonio City Council not to raid the water we need for agriculture!
---
October 7, 2014 update:
The San Antonio City Council will vote later this month on the Vista Ridge Project to take 50,000 acre-feet of groundwater per year from Burleson and Milam Counties to fuel urban growth.
WHEN: The first hearing on the proposal will be tomorrow, Wednesday, October 8, at 6 pm.
WHERE / WHAT TO DO: Come to City Hall, 114 W. Commerce to show your opposition to draining rural water supplies on a risky pipeline project for the benefit of private companies! Come a little early to sign up to speak, or just stand there with a "Stop the Water Grab" sign provided by the League of Independent Voters.
For more information on participating in the hearing, call League of Independent Voters at 512-213-4511 or email info@independentleaguetx.org.
Can't come to the hearing? You can still help, by signing the League's online letter! While we usually do not promote online letters, this one has the added benefit that a representative from the League will read the additional, personalized comments during the hearing tomorrow. So read the letter, sign on, and be sure to add your personal comments!
See below for more information about the San Antonio water deal and its effects on rural water supplies.
---
Originally posted September 25, 2014: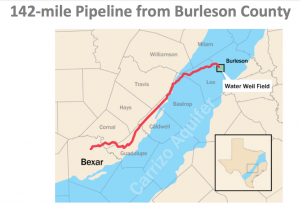 We have a fundamental problem with water in the state of Texas. It's not just the scarcity — it's the question of who gets that scarce water.
Our government policies consistently favor industry growth and urban residents.
Water for rural communities — where much of it is needed to grow our food — is a lower priority. Water planners will often use the term "low value use" when talking about agricultural water.
Stop and think about that. Watering lawns in the city is a higher value than growing our food?
The result of this attitude has been a push to transfer water from rural areas to large cities. The latest plan is a contract to sell water from the Simsboro and Carrizo aquifers, which underlie Burleson and Milam counties, to the San Antonio Water System (SAWS).
On Monday, SAWS unveiled a $3.4 billion contract to buy 50,000 acre-feet of water annually from these rural counties. Although estimates differ on how quickly the aquifers recharge from rainfall, this amount is significantly more than the annual recharge. In essence, SAWS will be "mining" the water from these rural counties, at a rate of anywhere from 4 to 25 times faster than the rain can put it back.
In the long run, the residents of not only Burleson and Milam counties, but also their neighbors in Lee and Bastrop Counties, will be left high and dry — literally.
Moving this water from Burleson and Milam counties to San Antonio will require a 142-mile pipeline. The pipeline will be built by Vista Ridge, a consortium of an Austin-based water marketer and a U.S. subsidiary of a Spanish company. The consortium is expected to use an entity with the power of eminent domain to build the pipeline, so that it will be able to force landowners to sell their land for the necessary easements.
Even though the 522-page contract was labeled a "draft" when it was released this week, SAWS is planning to sign the contract this coming Monday. But there is still hope, because the contract won't be valid until the San Antonio City Council approves it. That vote is scheduled for October 30th, but we can't afford to wait until then to speak up — the City Council needs to hear from people now!