Updated February 23, 2021
[PLEASE NOTE DATE CHANGE!] With legislators focused on the state's budget deficit, COVID, and redistricting, it's especially important that we get their attention to make small farms & local foods a priority. Hearing from regular people – farmers, small businesses, and consumers – is one of the most effective ways to do that.
In past Texas Legislative Sessions, FARFA's Lobby Day involved groups of our members visiting the Capitol offices of almost every legislator, armed with information on all our priority bills. This one-day event truly made a difference in getting good bills passed and bad bills killed!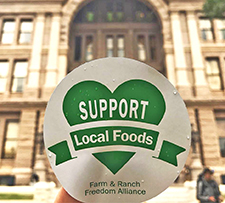 Obviously, our advocacy methods need to adapt this year. So, we invite you to join us for our Virtual Agtivism Days, March 2-3, where we will gather online to coordinate our advocacy efforts and speak (by phone) to as many legislative offices as possible. This Tuesday–Wednesday event will focus on specific bills each day, beginning with tips on how to get your message across most effectively. We'll have online guest speakers each morning, then participants will leave the Zoom room to make their phone calls, returning to the "room" to share experiences and discuss next steps.
Replicating our usual "huddle" space in a Capitol conference room, the Zoom room will remain open all day so participants can pop in to ask questions or get additional guidance. Most of all, we'll work to make it as much fun and as effective as our past in-person events!
The focus over the 2 days will be:
Supporting local meat production.
Improving access to locally raised eggs.
Clarifying the provisions for permit fees and sampling at farmers' markets.
Reining in the Texas Department of Agriculture's overreach on small farms.
Healthy soils for healthy communities.
While each day will cover specific topics, you can attend and advocate for any of the bills on either or both of the two days. Read more about our bills addressing each of these issues on our website.
Each day will follow the same agenda:
9 a.m. – Welcome.
9:15 a.m. – Guest speaker on the day's theme: Tuesday will cover meat and eggs, with guest speaker Katherine Tanner; Wednesday will focus on small producers and soil health, with guest speaker Colin Mitchell (speaker details HERE).
9:45 a.m. – Updates on the latest news on the local food bills.
10:30 a.m. – Phone meetings with your State Legislators or their staff (just two calls, each about 15-20 minutes long.
10:30 a.m.-3 p.m. – (At your convenience or as you need) Return to the Zoom room to share how the calls went, get answers to any questions, and connect with other people who are passionate about sustainable agriculture and local food.
RSVP here and we'll send you instructions soon for scheduling calls with your legislators. While registration is not mandatory, we can help you set up the phone calls with legislators ahead of time if you let us know you're participating.
One last note: If you have a compelling story about how one of these bills could significantly impact your farm or business, there's a place in the RSVP form to let us know that. Stories can make all the difference in swaying a legislator's vote!
We hope you'll join us in making sure our small farms get the attention they need and deserve.