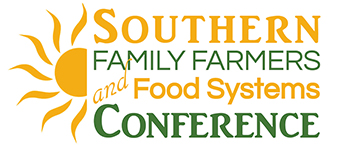 AUGUST 8-10, 2021
San Marcos, Texas
General Info | Program | Speakers | Sponsors
Event Hosts | Event Venue | Exhibitors | Scholarships | Registration
---
The Small Family Farmers & Food Systems Conference kicks off with half-day and full-day pre-conference workshops on Sunday, Aug. 8. Monday and Tuesday, Aug. 9-10, are packed with dozens of opportunities to learn and to enhance your local foods business. Both days offer six concurrent tracks, ensuring that, no matter your interest, you'll find plenty of topics that fit your needs.
(Sunday's pre-Conference workshops are described following the Monday-Tuesday schedule.)
Be sure to join us Sunday, 5-7 p.m., in the LBJ Student Center/Exhibit Hall for a pre-Conference social!
---
(Please note that this schedule remains tentative, times are subject to change.)
MONDAY, AUGUST 9, 2021
7:30-8:45 a.m.
REGISTRATION/CHECK-IN
8:45-10 a.m.
Session 1
Who Controls Our Food: The Issues With Consolidation: Doug Constance, Scott Marlow
Gardening for Food Production: Boone Holladay
Soil Health: Cover Crops & More: Ray Archuleta
Working With Your Meat Processor: Wendy Taggart
Lessons Learned in 40 Years of Market Farming: Alex Hitt
Academic Research Presentations
10:30 a.m.-noon
Session 2
The Economics of Local Food – What Will It Take to Grow Market Share: Chloe Sorvino, Frankie Bayne, Margaret Smith, Will Harris
Basics of Beekeeping: Walt & Heather Draker
Starting a Successful Vegetable Farm: Becky Hume, Diana Padilla
Sustainable Dairying: Jim Goodman, Craig Miller
Farm-to-Table: COVID and What Happens Next: Erroll Schweizer, Sonya Cote, and Mark Jacob
Academic Research Presentations
1:30-3 p.m.
Session 3
The Carbon Markets Debate: Jim Goodman, Jim Blackburn
Success with Cottage Foods: Judith McGeary, Kelley Masters
Equipment for Small Acreage: Andy Pressman, Brent Heironimus
Animal Nutrition & Phytochemicals: Stephan van Vliet
Selling to a Wholesale Distributor: Evan Driscoll, Margaret Smith, Jarryd Brennan
Academic Research Presentations
3:30-5 p.m.
Session 4
Power Dynamics & Systemic Injustice in Our Food System: Dr. Gail Myers, Anita Ross, Matt Solberg, Lyla June Johnston
Preserving Food – Fermenting, Canning & More: Ryan Farnau, Aislynn Campbell
Food Safety for Produce Growers: Michelle Akindiya, Frankie Bayne, Codie Brown
Goat & Sheep Management: Liz Benavides, Lauri Celella
Grant & Cost-Share Programs for Producers: Samantha Salinas, Nelson Daniels, Kat Neilson
Academic Research Presentations
5:15-6:15 p.m.
FARFA Member Meeting
6:30-8:30 p.m.
Dinner & Keynote with Will Harris
---
TUESDAY, AUGUST 10, 2021
7:30-8:30 a.m.
REGISTRATION/CHECK-IN
8:30-10 a.m.
Session 1
Healthy Soils – Why They Matter & How We Get There: Alex Racelis, Kara Kroeger, Stephan van Vliet
Resources for Beginning Farmers: Jay Bragg, Michelle Akindiya, Doug Havemann, and Bertha Venega
Successful Orcharding & Fruit Production: Betsy Ross, Guy Ames, Dan Rohrer
Livestock Breeds for Heat Tolerance: Steven Lukefahr, Travis Krause, Heather Blewett
Social Media Marketing: Jeff Bednar, Chaz Daughtry, Lisa Seger
On-Farm Renewable Energy: Will Harris, Semih Aslan, Nick DeVries
10:30-11:45 a.m.
Session 2
Legislative Update from DC & Austin: Patty Lovera, Judith McGeary
Floriculture for Profit: Gretchen O'Neil and Grant Winkelman
Hyrdroponics & Aquaponics: Jeff Bednar, Kevin Wheeler
Pastured Poultry: Doug Havemann
Certification Options for Producers – Organic, Grassfed, & More: Morgan Ehmling, Don Davis, and Alice Varon
Technologies for Remote Monitoring: Liz Benavides, Matt Kutugata, Rishab Basutkar
Noon-1:30 p.m.
Lunch & Keynote by Lyla June Johnston
1:45-3:15 p.m.
Session 3
Engaging Youth in Food & Agriculture: Stephen Lucke, Lauren Maples, Angela Vela, Hernan Colmenero
Grant Writing for Producers & Producer Organizations: Susie Marshall, Ken Mix, Elise Haschke
Silvopasturing: Integrating Trees & Livestock Production: Colin Mitchell, Justin Graham
Pasture Diversity & Nutrition: Peggy Sechrist, Kara Kroeger
Farmers' Markets from the Farmer's Perspective: Ben Guyton and Michelle Akindiya
Software Tools for Producers: Pedro Schambon, Liz Jeffers, and Mason Zepeda
3:45-5 p.m.
Session 4
So Many Ways to Be an Activist! Leslie Provence, Marie Tedei, Matthew Posey
Mushroom Production: E. Ray Gard
Raising Pastured Pigs: Tina & Orion Weldon
Financial Essentials for Producers: Tim Traister, Jarred Maxwell, Bertha Venegas
---
Sunday Pre-Conference Workshops
Approx. 9 a.m.-12:30 p.m. & 1:30-5 p.m. (Lunch will be provided for full-day attendees)
1. Why Farms Fail: Planning for a Resilient Family Farm (Full-Day)
The morning will cover whole enterprise planning and goal setting, and the interface between the farm and home. That includes the impact of family dynamics as well as planning for a variety of crises, whether they be weather- or market-related. We'll also touch on resilience "backups" through USDA programs, from crop insurance to disaster relief.
The afternoon offers three alternatives for attendees:
Roundtable session with FARFA and other organizations involved in the disaster relief efforts, to discuss how to better coordinate and support our community in future disasters.
Individual consultations (15-20 minutes, one-on-one meetings with farm crisis experts).
Attend one of the other afternoon sessions (Small Farm Marketing or Starting a Successful Co-Op).
Presented by Scott Marlow, Glen Miracle, Stephen Carpenter
2. Designing Food Safety Into the Farm (9 a.m.-12:30 p.m.)
This half-day workshop will present ways you can set up your wash-and-pack area for optimal flow and produce safety as well as offer tips and best practices for worker training and management in the wash-and-pack space. We'll also touch on any recordkeeping necessary for the process. All of the topics discussed in the workshop will focus on produce safety within the FSMA produce safety rules.
Presented by Lorig Hawkins, Billy Mitchell
3. Small Farm Marketing Strategies & Tools (1:30-5 p.m.)
This workshop will help new and beginning farmers determine which marketing strategies will work best for their farm and will provide seasoned farmers with new information about local food marketing strategies. You'll hear from a panel of Texas farmers and ranchers about the benefits, drawbacks, and their personal experiences with several local food marketing strategies: community supported agriculture (CSA) programs, farmers markets, and wholesaling, to name a few.
In the second half of the workshop, you'll learn about online marketing platforms and how this rapidly expanding technology can help farmers connect to the thousands of consumers who now shop for their food online. There will be plenty of time for Q&A, so bring your questions!
Presented by Lorig Hawkins, Ivy Walls, Mark Hutchins, & representatives from online marketing platforms Barn2Door, GrownBy, Local Food Marketplace
4. Starting & Running a Successful Co-Op (1:30-5 p.m.)
Co-Op development experts and co-op founders from across Texas will explore the many ways that cooperation can build strong, resilient farmer and rancher networks as well as a committed, reliable customer base. Topics include:
Reducing expenses and increasing market access.
Start-up basics.
Co-op business planning and design.
Worker cooperative farms and cooperative land trusts.
Legal and tax considerations.
Presented by Annelies Lottmann & Drew De Los Santos