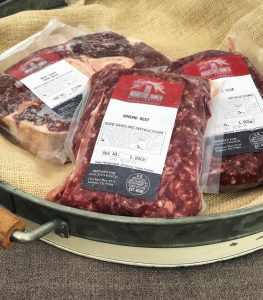 We can increase farmers' incomes and consumer access to locally raised meat, AND reduce federal regulations and fossil fuel use – all at the same time. The PRIME Act, H.R. 2859/ S. 1620, can make that happen.
The PRIME Act repeals the federal ban on the sale of meat from what are known as "custom slaughterhouses." These are facilities that meet state regulations, but that do not meet the federal requirements for an "inspected facility" since those standards (in addition to setting requirements for the facility and its operations) specify that an inspector be present when the animals are processed.
Custom slaughterhouses are already legally operating in numerous states, but the meat from them can only be provided back to the person who owned the animal when it entered the slaughterhouse. So a farmer who wants to sell his or her beef, lamb, goat, or pork to consumers at a local farmers' market or other local outlet cannot use a custom slaughterhouse. Instead, the farmer has to haul animals to a USDA- or state-inspected facility.
Because of the costly requirements imposed on the inspected facilities, most of them work with the conventional, industrial-scale meat industry. There are only a relatively small number of them that will work with small farmers. In some areas of the country, the nearest inspected facility may be a several-hour drive away.
At best, the farmer has to spend many hours and a lot of gas hauling animals (and increasing the stress on the animals). And in many cases, it means that the farmers simply can't sell their meat, unless the buyer is willing to buy a part of the LIVE animal and have them taken to the nearer custom slaughterhouse.
The PRIME Act returns control to the states to address the issue of meat processing. States would be able to permit producers to sell meat processed at a custom slaughterhouse direct to consumers or wholesale within the state. States could choose to impose whatever conditions or limitations that best suited their agricultural, food system, and social conditions.
The PRIME Act is a win-win-win in these ways:
Reduces regulatory burdens on small businesses.
Increases consumers' access to locally raised meats.
Reduces transportation miles & greenhouse gases.
Improves farmers' incomes and opportunities.
Reduces stress on animals from hauling.
Reduces federal regulatory overreach and supports state-level control.
Filed by Representative Thomas Massie (R-Kentucky), Representative Chellie Pingree (D-Maine), and Senator Angus King (I-ME), the PRIME Act already has bipartisan support with 17 co-sponsors from over a dozen states – but we need to build more support in order to move it forward.
Will you help?
---
TAKE ACTION
Call your U.S. Representative and Senators and urge them to sign on to H.R. 2859 and S. 1620.  You can look up who represents you at our Elected Official Lookup or call the Capitol Switchboard at 202-224-3121.
Below is a sample message for your call or email. Remember that calls have a greater impact, and only take a couple of minutes. Use this sample message as a starting point – tailor it to your own language and focus on why this issue is important to you. Personalized messages are the best way to convince legislators!
As a constituent, I urge Representative ____ to co-sponsor H.R. 2859, the PRIME Act.    [OR: I urge Senator ___ to co-sponsor S.1620, the PRIME Act.]
This bill opens up more options for small farms and ranches, and thus for the consumers who want to buy from them. The bill simply removes the federal ban on the sale of meat from custom slaughterhouses directly to consumers and venues serving consumers within a state, subject to state law. This returns power to the states to establish a regulatory scheme that makes sense for their citizens.
The PRIME Act supports local food production and small businesses, while also reducing vehicle miles traveled with livestock trailers and helping to meet the consumer demand for locally raised foods.
Please support our local farmers and consumer choice by co-sponsoring H.R. 2859.
Name
City, State
If you are a livestock producer, take a few extra minutes and ask to speak to the staffer who handles agricultural issues.  Briefly explain to the staffer any problems you have faced with lack of access to inspected slaughterhouses, and how the PRIME Act would help your business and benefit your customers.
NOTE: If your Representative is already a co-sponsor, be sure to say "Thank you!" when you call.
H.R. 2859 co-sponsors:
Justin Amash (R-MI)
Andy Biggs (R-AZ)
Joe Courtney (D-CT)
Rodney Davis (R-IL)
Jeff Duncan (R-SC)
Matt Gaetz (R-FL)
John Garamendi (D-CA)
Jared Golden (D-ME)
Mark Green (R-TN)
Jared Huffman (D-CA)
Steve King (R-IA)
Thomas Massie (R-KY)
Mark Meadows (R-NC)
Scott Perry (R-PA)
Chellie Pingree (D-ME)
Elise Stefanik (R-NY)
Rashida Tlaib (D-MI)
S. 1620 was filed by Senator Angus King (I-ME) and is co-sponsored by Rand Paul (R-KY) and Lamar Alexander (R-TN).