Join us for the 8th Annual Farm and Food Leadership Conference
September 15-16, 2014 in Bastrop, Texas
---
2013 conference speakers below…stay tuned for 2014 details!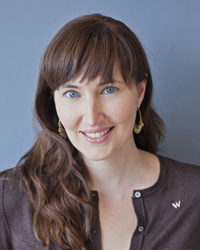 VALERIE BROUSSARD
: A Louisiana native, Valerie Broussard spent 11 years in New York City as a chef, food stylist and writer. She then completed an MA in Food Culture and Communications from the University of Gastronomic Sciences in Parma, Italy before moving to Austin, where she volunteers as Slow Food Austin's Biodiversity Chair. Valerie joined W Austin as Forager, sourcing produce from nearby farms, cheeses, meats, and even hot sauce from artisanal producers.
---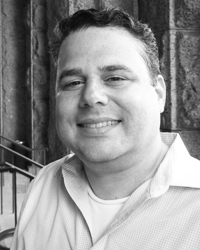 STEVE BRUNO has over 15 years worth of experience working in and around the Texas Capitol. Steve has served as Legislative Director for a State Representative, Assistant Clerk for the House Ways and Means Committee, and Chief Clerk for the House Environmental Committee. For the past three sessions, Steve served as the Government relations officer for the Texas Department of Licensing and Regulation. Throughout his career Steve has established himself as a "go-to" resource for writing bills and amendments, preparing talking points and bill analyses, understanding and explaining parliamentary rules and procedure, and translating statues and administrative rules into plain, understandable language.
In addition to his work at the Texas Capitol, Steve has taught classes on the legislative process and lobbying at his alma mater, St. Edward's University in Austin.  In 2001, Steve earned a Master's in Public Affairs from the LBJ School of Public Affairs at the University of Texas at Austin, focusing his policy studies on the areas of affordable housing and the Texas State budget.
---
RICK CARRERA is the Project Director for the Texas Rural Cooperative Center at The University of Texas-Pan American, which works to improve rural economic conditions through cooperative development. He holds a B.S. in Industrial Technology from Texas A&M University – Kingsville and an MBA from The University of Texas – Pan American. With more than 5 years of professional experience supporting rural businesses and agricultural industries, he assists agricultural cooperatives, associations and small scale producers with marketing, capitalization plans, business plans, and organizational plans.
His current projects include helping local small producers form a cooperative that will enhance their ability to reach larger markets and clientele, among others. The assistance provided to rural businesses and small producers is enhanced by his experience in a variety of capacities including operations management, sales, marketing, and training, obtained in non-profit organizations and Fortune 500 companies.
---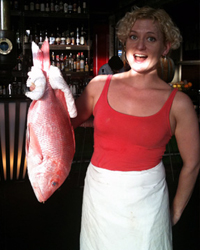 SONYA COTÉ's culinary creativity and love for natural foods stems from her unique childhood experiences in Rhode Island. Her blended French-Italian family roots are deeply entwined in Old World traditions that honor the spirituality of food and value of community, and this has served as the foundation for Sonya's love of gourmet and natural cuisine.
As a young girl and an aspiring chef-in-training, Sonya assumed the role of hunter and gatherer for a large family, and was responsible for assembling ingredients to cook large meals. Her grandfather was a French Chef who grew vegetables in his backyard, and delighted in making fresh and simple gourmet dishes. He showed Sonya how to carefully choose the highest quality produce, and taught her basic cooking techniques that sparked her inspiration in the kitchen for years to come.
While pursuing college studies in Fine Art & Design several years later, Sonya re-discovered her passion for authentically prepared cuisine and gourmet foods. Since then she has tirelessly pursued her love for preparing sustainable and healthy foods, and has dedicated 16 years to the natural and organic food industry.
Sonya apprenticed under Italian Chef Dominico Biasi, and taught kitchen etiquette and production methods to aspiring chefs. Soon after, Sonya served as Executive Chef for a Central Texas Inn and Natural Foods Cooking School, where she honed her daily menus.
With years of culinary experience at her disposal, Sonya has embarked upon several business ventures including Red House Catering Company in Dallas. She then moved to Austin and became sous chef for spirited food co. under chef Andrew Brookes for three years. She now runs Coté Catering in Austin, Texas where she supplements her menus using fresh herbs and vegetables grown in her own backyard garden, otherwise known as foodie farm.
---
BRIAN CUMMINGS: With 30-plus years of experience in both corporate and agency public relations, Brian Cummings has extensive experience in designing and managing integrated communications programs for a variety of organizations—from start-ups to Fortune 500 companies. He has served as general manager, CEO or owner of several public relations entities — the Pittsburgh office of Burson-Marsteller, Publicis Public Relations (formerly Bloom Public Relations) in Dallas, and Cummings McGlone & Associates. He has significant experience in the food and healthcare industries including award-winning work for a wide variety of consumer products and services.
His interest in food and sustainable agriculture led to the formation in 2007 of Eat Green LLC which operates EatGreenDFW.com, the leading source of news and information in North Texas about sustainably produced food. Brian is a past chairman and member of the board of directors of the American Heart Association Dallas Division. While at Bloom/Publicis, he also served as treasurer and later chairman of The Worldcom Public Relations Group. He holds a B.A. in Journalism from Duquesne University.
---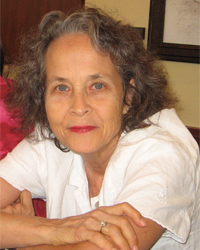 LINDA CURTIS is a leading spokesperson, analyst and tactician for the Texas independent political movement. In 2001, Linda became a co-founder of Independent Texans, the state's only voter association for independent and non-aligned voters. Together with Brian Rodgers, a small developer and longtime Austin city activist, she founded ChangeAustin.org in 2008. In 2012, Linda was the coordinator for an Austin based cross-partisan coalition, Austinites for Geographic Representation, which passed a historic change in Austin city council all at-large elections to
single-member districts and the first independent citizens redistricting commission in Texas to draw the lines.
In 2006, Independent Texans, under Curtis' leadership, coordinated groups across the state that utilized Carole Strayhorn's independent gubernatorial campaign to help defeat the TransTexas Corridor. The organization is now focused on building another cross-partisan coalition that is pushing for public hearings to address eminent domain abuse, public safety and protection of our water supply related to three pipelines carrying tar sands (diluted bitumen) through east Texas to Houston refineries and over numerous water ways and the Carrizo-Wilcox Aquifer.
Linda lives in Bastrop and is working with a local citizens effort to halt the continued attempts by
water speculators to raid the Simsboro aquifer, which could become the next big test case for groundwater conservation in Texas. Curtis is currently working to build a statewide effort to defeat of Prop 6, the "Water Heist" Amendment, on the November 2013 ballot. A white paper will be available on or about September 1.
---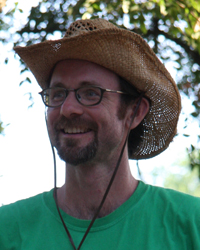 MAX ELLIOTT is the co-founder and Executive Director of Urban Roots. He joined Urban Roots original parent organization, YouthLaunch, in August 2006 and co-founded Urban Roots the following year. Max received a BA in American Studies from Tulane University, a Master's Degree in Environmental Studies from the University of Essex in Colchester, England, and a Master's Degree in Social Work from the University of Texas at Austin.
In 1999, he received a certificate in Ecological Horticulture from the Center for Sustainable Food Systems at the University of California at Santa Cruz. In Central Texas, he has worked with Austin Community Gardens and with several local organic farms including Tecolote Farm, Oasis Gardens, and Pure Luck AAA Goat Dairy. Max served on the City of Austin/Travis County Sustainable Food Policy Board from 2008-2010.
---
DOUG FOREMAN launched Beanitos®, an all natural, bean-based, 100% corn-free snack chip in early 2010. Foreman is no newcomer to the specialty snack market. He was very successful in bringing several consumer packaged goods to market, and he is best known for creating the "Guiltless Gourmet" line of low-fat, baked tortilla chips in 1989. He started the line out of his restaurant's kitchen with only $200, eventually growing "Guiltless" into a half billion dollar category that included the first-ever fat free bean dips and no water added salsas.
With the help of the investors behind the successful Barq's Root Beer brand, Foreman expanded Guiltless Gourmet from its beginning in health-food stores, into the broader mass consumer market in 1992. He has been a media favorite, appearing on the cover of Food and Beverage Marketing (Nov. 1993), Forbes (July 1992 & 1994), and Inc. (cover story, June 1994). In 1992, he was named "Entrepreneur of the Year" by Ernst & Young and Inc. magazine.
Foreman's interests have always reflected his desire to take the unpredictable path. He was once a professional helicopter pilot delivering traffic reports in his hometown of Austin, Texas. Born in Louisiana, Foreman has since remained in his adopted home state of Texas where he resides with his 3 young sons.
---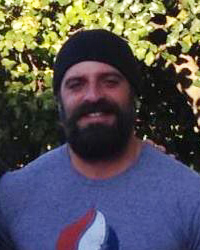 TONY GRASSO: An Austin-based cook, brewer, and sodbuster Tony Grasso is currently in the process of co-founding the Moontower Community Agricultural Cooperative (Moontower Co-op). Moontower will employ a multi-stakeholder cooperative model to serve as a distribution hub for locally sourced foods in Central Texas. Tony envisions the cooperative as the most effective means to realize his two principal interests; keeping farmers farming and keeping food local.
After being actively involved in agricultural efforts in Southeastern Massachusetts and the San Francisco Bay area Tony came to Austin for graduate school studying public policy at UT. He has since put down roots and focuses on building the local farm and food communities.



---
JESSE GRIFFITHS has been hunting the last five of his 37 years. "We didn't have hunters in my immediate family, but we did have anglers," the Denton, Texas native said. Griffiths, an only child, grew up fishing, but always had a yearning to go afield.
Without a mentor, Griffiths turned to the Internet. "I read everything I could find on websites and forums. I asked questions. I analyzed information and techniques. I just educated myself," he said.
Griffiths is also a self taught cook. At 16 years old, he had his first restaurant job in Denton, and says he learned from everyone on the line. By the time he was 21 he was cooking professionally, and never looked back. The cooking that gave him the biggest thrill early on was preparing the fish he had harvested. "I wouldn't even accept fish from friends who offered, because I only wanted to cook the ones I caught," he laughed. "I guess I really liked the feeling of being so intimately connected to the source of my food."
Griffiths, with his wife Tamara Mayfield, own and operate Dai Due Butcher Shop and Supper Club; the businesses focus on traditional, local and sustainable approaches to food in the Central Texas region. He works with and only serves locally sourced produce, meat and dairy.
In addition to selling artisanal meats, condiments, and preserves at farmers' markets, he's fed hundreds of people at his supper clubs, and has in the last three years offered deer and hog schools at the Madroño Ranch in Medina, Texas. "I felt there was a need for this kind of intensive immersion, and I was right. The response has been huge!" With a tone of urgency, he added, "People know how to hunt and almost categorically don't know what to do with the meat afterwards."
Griffiths believes it is critical to teach people who have spent time and money hunting and harvesting these animals how to care for them in the field and in the kitchen. "We have a culture of hunting game, but not of eating game. These people know they want to eat what they harvest, but not how to go about it."
With Jesse's new book, Afield: A Chef's Guide to Preparing and Cooking Wild Game and Fish, published by Welcome Books, more people will be able to share his dream.
(Bio reprinted from Field & Feast.)
---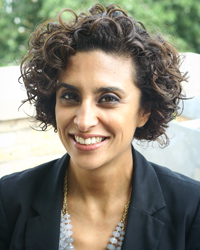 CLAUDIA HARDING has worked with Sustainable Food Center (SFC) since 2012 first as SFC Farmers' Market Outreach Coordinator, and currently as Food Access Manager, providing oversight and support for the food access programs found at the SFC Farmers' Markets.
Her work at SFC allows her to pursue her strong interest in the food experiences of people of color and the cultural, social and economic practices surrounding the production and consumption of food. Before coming to SFC, she worked at the Capital Area Food Bank providing assistance to families and individuals in need of social services like SNAP, CHIP, and Medicaid.
---
ERIC HERM is a fourth-generation farmer from Ackerly, Texas. An activist and author, two of his books have been published: Son of a Farmer, Child of the Earth and Surviving Ourselves. Since moving back to the family farm in 2005, he has successfully transitioned over 6,500 acres away from pesticides, commercial fertilizers and genetically-engineered cotton seed. He can be reached through his website sonofafarmer.com.
---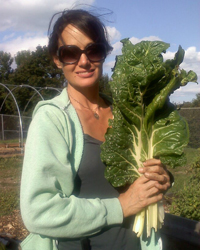 JENNIE HOLT was born in rural Missouri to two artists who packed up their small family in a pickup truck with a camper and travelled the country seeking adventure and diversity. She attended high school in Mexico and spent three years in Europe before settling in Santa Fe New Mexico where she pursued and a degree in Linguistics and Bi-lingual Education at the College of Santa Fe. There she worked for Cooking with Kids a bi-lingual non-profit that educates Santa Fe school children about food, and nutrition by connecting food, to culture and gardening.
Returning to her Midwestern roots, Jennie then moved to Nebraska where she ran the youth programs for a non-profit Community CROPS. There she ran urban farms connected with schools, implemented composting programs and fundraised in the school and foster care systems. She is co-founder of the Texas based non-profit Eco-Stead, which is working to connect rural students to the foods we eat and grow while striving to raise food awareness and healthy living.
A yoga teacher, and self-proclaimed homesteader she occupies much of her free time in the pursuit of greater flexibility and healthy living.
---
DR. STEVE KING is a native of Arkansas where he obtained his B.S. in crop science and an M.S. in plant breeding. Steve attended Cornell University where he received his Ph.D. in plant breeding. After working in the vegetable seed industry, Steve went to work for the Horticultural Sciences Department at Texas A&M University where he taught Vegetable Crop Production. He is the co-owner of Millican Farms, which raises high quality tomatoes in the Brazos Valley.






---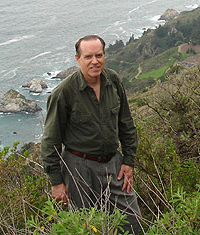 KEN KRAMER is the volunteer Water Resources Chair and Legislative Advisor for the Lone Star Chapter of the Sierra Club. Dr. Kramer retired in July 2012 after over 23 years as the first Director of the Lone Star Chapter and a previous seven years as a contract lobbyist for the Chapter. Dr. Kramer received a B.A. in History with a minor in Government from Texas Lutheran University in 1969. He was awarded an M.A. in Political Science from Stephen F. Austin State University in 1971 and then served in the United States Army, stationed at Fort Bliss in El Paso.  He received his Ph.D. in Political Science in 1979 from Rice University.
Dr. Kramer served on the Government faculty at Angelo State University in San Angelo from 1977 to 1980 and as Visiting Assistant Professor of Political Science at Texas A&M University from 1980 to 1982. Dr. Kramer has served on numerous advisory committees to Texas state and local agencies and officials, and currently serves on the state's Water Conservation Advisory Council and the stakeholder committee on environmental flows for the Trinity and San Jacinto River Basins and Galveston Bay.  Dr. Kramer is the editor of The Living Waters of Texas, published by Texas A&M University Press in 2010.
---

RUSSELL LANGLEY earned his JD from the University of Texas at Austin.  Russell also earned a Bachelor of Arts in Speech Communication from Texas A&M University, where he graduated with Summa Cum Laude with University Foundation Honors.  After law school Russell embarked on a highly successful political career, serving as campaign manager for Congressman Jim Turner; serving as Executive Director of the Dallas and Tarrant County Democratic parties; and co-founding and managing the Texas Values in Action Coalition, one of the largest political action committees in Texas.
Langley also served as a trial attorney for the Special Prosecution Unit-Civil Division, where he gained extensive civil trial and advocacy experience in proceedings against sexually violent predators. He currently has an active public policy practice as a principal of the Langley & McGeary law firm.
---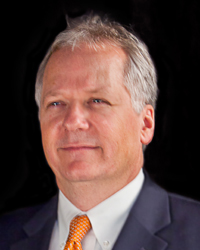 ALAN LEWIS: For nine years, Mr. Lewis has directed Government Affairs and Food and Agriculture Policy for Natural Grocers by Vitamin Cottage, a 55-year-old health food store chain operates over 60 stores in thirteen Western and Mid-western states.
Mr. Lewis is active in several trade organizations and sits on the Boulder County, Colorado, Food and Agriculture Policy Council. His focus is on communicating with policy makers at the federal level using frameworks that are non-confrontational and inclusive.
He has lived for extended periods in Portugal, Haiti, and Dominica, where he developed a keen appreciation for the variables of agriculture within ecological, cultural and economic contexts.
---
PATTY LOVERA is the assistant director of Food & Water Watch (www.foodandwaterwatch.org) where she coordinates the work of the food team and focuses especially on meat inspection, food safety, labeling, and dairy issues.
Patty has a Bachelor's degree in environmental science from Lehigh University and a Master's degree in environmental policy from the University of Michigan.
Before working at Food & Water Watch, Patty was the deputy director of the energy and environment program at Public Citizen and a research associate at the Center for Health, Environment, and Justice.
---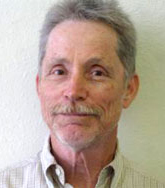 ROBERT MAGGIANI: Sustainable Agriculture Specialist Robert Maggiani is a familiar face in the Texas produce industry and widely recognized as an expert on specialty crop production and marketing. He has BBA and M.S. degrees from the University of Texas in Austin. He was a commercial vegetable farmer in South Texas and North Mexico in the 1970's and 1980's, and he is fluent in Spanish.
In 1985 he joined the marketing staff of the Texas Department of Agriculture (TDA) as a Direct Marketing Specialist with statewide responsibilities. He was the first marketing specialist assigned to TDA's efforts to establish an organic certification program in 1987. After six years in Austin, in 1991 he transferred to the newly created office of the South Central Region in San Antonio to become the Chief of Marketing. He served in that position for the next 20 years and developed extensive contacts in Texas with producers, retailers, wholesalers, restaurants, and trade associations.  Robert currently works with the National Center for Appropriate Technology (NCAT).
---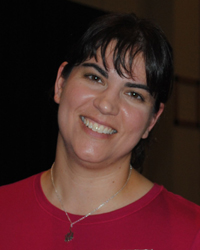 SUSIE MARSHALL is founder and Executive Director of GROW North Texas, a Dallas-based not-for-profit organization that cultivates healthy food communities by improving access to fresh, nutritious food and strengthening the local food system. She has 10 years of experience working with food producers and food assistance programs distributing surplus fruits and vegetables with The Gleaning Network of Texas.
Susie is also currently serving as the President of the Texas Organic Farmers and Gardeners Association. She also has training in food policy as well as over 20 years experience working with youth and volunteer groups. A native of the Dallas area, Susie has a Bachelor¹s degree from Texas Wesleyan University, a Master's degree in Health and Physical Education from Texas A&M ­Commerce,
and a Master's of Theological Studies from the Perkins School of Theology at SMU.
---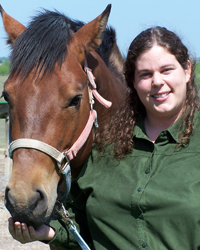 JUDITH McGEARY is an attorney, farmer, and activist. She has a B.S. in Biology from Stanford and a J.D. from the University of Texas at Austin. Following a clerkship with the Fifth Circuit Court of Appeals, she practiced as an attorney in administrative law and litigation. After seeing how government regulations benefit industrial agriculture at the expense of family farms, she left her legal practice to form the Farm and Ranch Freedom Alliance in 2006.
Since then, Judith has spearheaded national coalitions fighting to stop the National Animal Identification System and to protect local foods.  She also serves as a representative for small and diversified farms as vice chair of the USDA Secretary's Advisory Committee on Animal Health.
---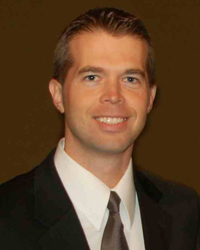 DR. MARK SHANNAN is in his 15th year as a second-generation Chiropractor and Nutritionist with a thriving practice in Austin. He has an amazing wife and two beautiful little girls who help to keep his passion of loving and helping others alive and new every day. He has a B.S. in human anatomy, a doctorate in Chiropractic, and a certification in applied clinical nutrition.
He has lectured regularly for 15 years on all areas of health and nutrition, as well as ethics and risk management in the field of Chiropractic. He has testified multiple times in front of the Health and Human Services Commission and House of Representatives in Texas for the cause of raw milk and its safety and health value.





---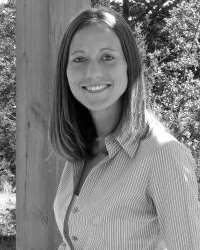 STACEY STEINBACH is the Executive Director of the Texas Alliance of Groundwater Districts, a non-profit association of groundwater conservation districts in the state of Texas. She also serves as the groundwater conservation districts representative on the Texas Water Conservation Advisory Council. Stacey previously worked as an attorney at the Texas General Land Office, where she represented the agency on matters related to coastal law, state boundaries, and natural resource issues.
She has experience working with numerous Texas water districts on issues related to water quality, water supply, water rights, and the laws governing local government entities through her previous work as an attorney in private practice. Stacey holds a bachelor of science in biology and ecology from Baylor University, a master of science in wildlife and fisheries sciences from Texas A&M University, and a juris doctor with honors from the University of Montana School of Law.

---
BOB STRYK was born and raised on the family farm that his parents purchased in 1955. Mr. Stryk graduated from Texas A&M in 1979, and returned to the family dairy. In 1986 he married Darlene, who also comes from a family farm background, and in 1996 he sold all but 20 cows and heifers, and went to work in town. During this time the Stryks began selling cheese at the farm to help keep the farm in the family.
In 1999 the Stryks had a daughter, Bryn, and at that point they realized the importance of striving to keep the family farm even more. They were licensed to sell raw milk in 2005 and since then, many families have visited the farm to see the cows, pet the calves, and of course, to buy raw milk.




---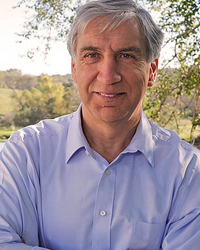 DR. FRANCIS THICKE and his wife, Susan, own and operate an 80-cow, grass-based, organic dairy near Fairfield, Iowa. They have a processing plant on their farm where they process all the milk from their cows. In the processing plant they produce bottled milk, cheese and yogurt which they market through grocery stores and restaurants in their local community. All their milk products are sold within four miles of their farm.
After completing his Ph.D., Francis worked at the U.S. Department of Agriculture in Washington, D.C., serving as the National Program Leader for Soil Science for the USDA-Extension Service. Francis and Susan returned to full-time farming in 1992 in the farming operation they own and operate today. Thicke has received multiple awards and honors, most recently the 2012 MOSES Organic Farmer of the Year, 2009 Spencer Award for Sustainable Agriculture, and the 2007 Sustainable Agriculture Achievement Award from the Practical Farmers of Iowa.
---
KRISTI WILLIS is a freelance writer and sustainable food advocate who shares her passion for local food on her blog, Kristi's Farm to Table, and as a regular contributor to Edible Austin magazine and CultureMap Austin. She is a member of Slow Food, the International Association of Culinary Professionals and Les Dames d'Escoffier International, a philanthropic organization for women in the culinary arts.
Drawing on her background in technology and grassroots organizing, Kristi recently helped rally support for Austin's urban farmers during the update to the city's Urban Farm Code.