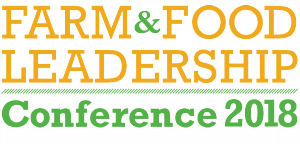 General Info | Lodging & Directions | Speakers | Program | On-Farm Dinner | Registration
Conference Sponsors | Volunteering & Scholarships | Silent Auction 
In its 12th year, the Farm & Food Leadership Conference offers two full days of sessions, with an extra day of Pre-Conference workshops. Concurrent tracks during the Main Conference offer compelling topics for local food producers as well as consumers.
Sunday, October 14, 2018: Pre-Conference Workshops
Registration: $15-$55
Monday, October 15–Tuesday, October 16, 2018: Main Conference
Two-day registration: $110   |   Students/Seniors/Sustaining Members*: $92
One-day registration:  $65   |   Students/Seniors/Sustaining Members*: $55
        * Seniors are 60 & over; Sustaining Members are those at the $250 level & above
Monday Evening Farm-to-Table Dinner: $80 for Conference attendees; $100 for all others
Online registration has closed. 
Walk-ins are welcome – just come in and see us at the registration desk!
We have a few spots left for our farm-to-table dinner.