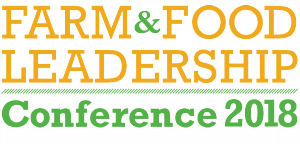 October 14-16, 2018 | Historic Downtown McKinney, Texas
General Info | Lodging & Directions | Speakers | Program | On-Farm Dinner | Registration
Conference Sponsors | Volunteering & Scholarships | Silent Auction 
Conference Program
(Times remain subject to change.)
Sunday, October 14, 9 a.m.-5 p.m.:
Pre-conference workshops for producers:
(Details on each workshop are below.)
How to form a successful cooperative
On-Farm Food Safety for Produce Growers
Food Safety Training for Processing Facilities
---
Monday, October 15, 8:30 a.m.-5:20 p.m.:
8:30 a.m. – Welcome
8:45-9:45 a.m. – Keynote by author and geologist David Montgomery.
9:55-10:55 a.m., Session 1
10:55-11:20 a.m. Book signing with David Montgomery and Anne Biklé
11:20 a.m.-12:35 p.m., Session 2
2-3:30 p.m., Session 3
3:50-5:20 p.m., Session 4
6 p.m.: On-Farm Dinner
---
Tuesday, Oct. 16, 8:30 a.m.-4:50 p.m.
8:30-9:30 a.m. – Keynote by author and biologist Anne Biklé
9:30-9:45 a.m. – Texas Agriculture Commissioner Candidate Forum
9:55-10:55 a.m., Session 1
Track 1: From TPP to tariffs: The impact of trade on farmers and eaters (

Patty Lovera

)
Track 2: Organic home gardening (

Howard Garrett

)
Track 3: Changing people's buying habits to impact our food systems (

Brett Tolley

)
10:55-11:20 a.m.: Book signing with Howard Garrett, Jesse Griffiths, Sean Wall, Pam Walker, Eric Herm)
11:20 a.m.-12:20 p.m., Session 2
1:45-3 p.m., Session 3
3:20-4:50 p.m., Session 4
---

Sunday, October 14, full-day workshops for farmers and producers.
1.  HOW TO FORM A SUCCESSFUL COOPERATIVE: Join Annelies Lottmann and other co-op development experts and practitioners from around the state to explore the many ways cooperation can build strong, resilient farmer and rancher networks as well as a committed, reliable customer base. This full-day workshop will address the following topics:
Reducing expenses and increasing market access through co-ops.
Start-up process basics.
Roundtable discussion with existing Texas agricultural co-op participants.
Co-op business planning and design.
Facilitated mentoring sessions with experienced farm and ranch cooperative leaders.
2.  ON-FARM FOOD SAFETY FOR PRODUCE GROWERS:  This official PSA Grower Training Course will smooth the transition to regulatory and third-party audit compliance, and make food safety part of growing your business. Your trainer will provide the "why and how" of managing your risk assessment, food safety standard operating procedures, and documentation to meet FSMA requirements. Participants will be eligible to receive a certificate from the Association of Food and Drug Officials (AFDO) that verifies they have completed the training course.
3.  FOOD SAFETY TRAINING FOR PROCESSING FACILITIES: Many food manufacturers, co-ops, food hubs, and even some farms are now subject to FSMA's "facilities rule," which requires a food safety plan addressing Hazard Analysis and Risk-Based Preventive Controls.  The FSPCA Preventative Controls for Human Food training will give you the information and resources needed to write your own food safety plan rather than hiring a consultant.
The new FSMA regulations require every processing facility to have a trained individual who has completed a specialized, two-part course. This person will oversee implementation of the facility's food safety plan and other key tasks. The first part of what's called a "blended course" is online. Our workshop fulfills Part 2 of the course. You must first complete the online Part 1, after which you will receive an email that will be your entry pass for this Part 2 course. Registration for Part 1 is available at https://apps.dasnr.okstate.edu/fapc.okstate.edu/preventive-controls-blended-course-online. (Note: businesses that gross less than $1 million in sales of all food annually are exempt from the requirement.)