General Info | Lodging & Directions | Program | Speakers | Registration
Conference Sponsors | Volunteering & Scholarships | Exhibitors | Silent Auction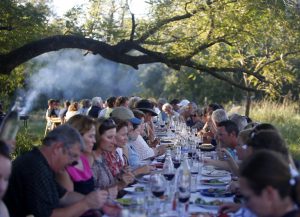 Our On-Farm Dinner returns this year, taking place at the beautiful Pure Land Organic farm in McKinney. Owned by father/daughter team and FARFA members Jack and Megan Neubauer, the terraced land, with its views of woods, ponds, and sunsets, provides a lovely backdrop to this special gathering, set for Monday, Sept. 25, at 6 p.m.
Chef Andrea Shackelford of Harvest Seasonal Kitchen will prepare locally grown beef and produce over a three-to-four course menu. Service will be family-style on a long table set under a stand of trees.
Dinner tickets are $65, with proceeds benefiting Farm & Ranch Freedom Alliance. They are expected to sell out, so register now to reserve your spot!
Directions to Pure Land Organic