August 11-13, 2019 | Texas State University | San Marcos, Texas
Program | Speakers | Venue & Lodging | Registration
Conference Sponsors | Scholarships & Volunteers | Farm-to-Table Dinner | Silent Auction | Exhibitors
Monday, Aug. 12, at 6 p.m. in the J.C. Kellam Administration Building, Texas State University

Our banquet dinner features locally raised, 100% grass-fed beef and Texas produce in an amazing menu prepared by the University's caterer, Chartwells.   Check out the full menu below!
During the dinner, Mark Shepard serves as keynote speaker, presenting an alternative to the prevailing and destructive agriculture system and offering hope for the future. He'll explain how the expansion of perennial agricultural ecosystems – whether on a backyard-, farm-, or ranch-scale – can save our planet.
The banquet takes place on the 11th floor of the JCK Administration Building on the Texas State campus. From the top of JCK, diners have a sweeping view of San Marcos and the historic building known locally as "Old Main."
Tickets are $70 and are available through our Conference Registration form.
Menu:
Roasted Brussel Sprout Salad – Sweet potatoes, Kale, Brussel Sprouts, Toasted Pumpkin Seeds
Smoked Beef Roast with Chipotle BBQ sauce and Carolina Mustard BBQ Sauce
Roasted Garlic Mashed Potatoes
Bistro Vegetables
Dinner Rolls & Butter
Apple Salted Caramel Pie with Whipped Topping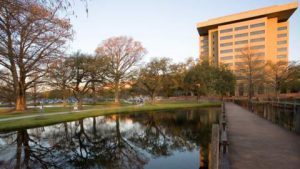 Dinner takes place on the top floor of the JC Kellam Building, overlooking the city and its many beautiful water features.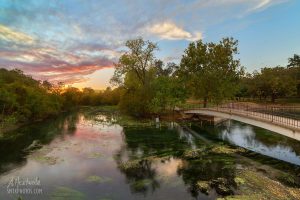 Don't miss taking some time to explore the scenic San Marcos River and lush public parks while in this historic city.