August 11-13, 2019 | Texas State University | San Marcos, Texas
Program | Speakers | Venue & Lodging | Registration
Conference Sponsors | Scholarships & Volunteers | Farm-to-Table Dinner | Silent Auction | Exhibitors
This year's Farm & Food Leadership Conference offers a full day of producer workshops, Sunday August 11, with the following two days packed with informative and inspiring sessions. Also on tap are a farm-to-table dinner, an expanded exhibitor hall, and five separate tracks offering more educational opportunities than ever.
Conference Program
Sunday, August 11, approx. 9 a.m.-5 p.m.
Pre-conference workshops for producers.
(Details are below.)
---
Monday & Tuesday, August 12-13, approx. 8:30 a.m.-5:20 p.m.
(Complete schedule coming soon!)
Hear speakers on pertinent topics within these five tracks: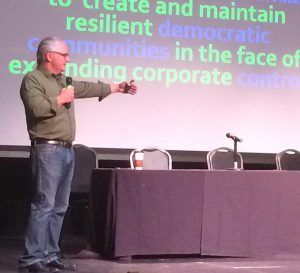 Crop production.
Livestock production.
Local foods policy & advocacy.
Financial and marketing guidance for small producers.
Topics for consumers, home gardeners, and fans of local foods.
Plus small-group discussions with experts on a range of subjects.
---
Pre-Conference Workshops
Sunday, August 11, 9 a.m.- 5 p.m.; full- or half-day workshops for farmers and producers, plus our first-ever workshop for youth.
1.  HOW TO FORM A SUCCESSFUL COOPERATIVE: How can a small-scale farmer or rancher access the same economies of scale and achieve the same market saturation as their much larger competitors? By Cooperating! Cooperation–with other farmers, with customers, and with a range of community members–can help farmers achieve success as vital parts of the food system. Led by Annelies Lottmann, co-op development experts and co-op founders from around the state will explore the many ways that cooperation can build strong, resilient farmer and rancher networks as well as a committed, reliable customer base. This full-day interactive workshop will address the following topics:
Reducing expenses and increasing market access through co-ops.
Start-up process basics.
Roundtable discussion with existing Texas agricultural co-op participants.
Co-op business planning and design.
Worker cooperative farms and cooperative land trusts.
Legal and tax considerations for cooperatives.
2.  ON-FARM FOOD SAFETY FOR PRODUCE GROWERS:  Small to mid-scale fruit and vegetable growers interested in learning about the Food Safety Modernization Act (FSMA) Produce Safety Rule, Good Agricultural Practices (GAPs), and co-management of natural resources and food safety will benefit from this comprehensive course. Participants will learn the "why and how" of managing food safety risks, standard operating procedures, and documentation to meet FSMA requirements, regardless of farm size. Upon completing, this course will give you the requisite certification as regulated by the Food and Drug Administration's Food Safety Modernization Act Produce Safety Rule § 112.22(c). Participants completing the entire course and documentation will receive a certificate from the Association of Food and Drug Officials. This course is partially supported by a grant from the NIFA Food Safety Outreach Competitive Grants Program in association with the Texas Organic Farmers and Gardeners Association (TOFGA). Full-day.
3.  FOOD SAFETY TRAINING FOR PROCESSING FACILITIES: (Description coming soon.)
4.  MAXIMIZING YOUR FARM CAPITAL FROM BOOKS TO BANKS: This workshop will focus on the benefits of good record-keeping and how those records translate into financial opportunities such as low-interest loans and grants. Led by Tim Traister, Senior Relationship Manager with Capital Farm Credit; Katie Jolander, Farm Service Agency; Jarred Maxwell and Eric DeVapine, Foodshed Investors. 1-5 p.m.
5.  IMPLEMENTING SNAP INCENTIVE PROGRAMS AT FARMERS' MARKETS: This workshop will introduce market managers to SNAP incentive programs like Double Up Food Bucks and provide an overview of the administrative requirements and implementation methodologies. Since every farmers' market has its own challenges, strengths, and limitations, attendees will gain an understanding of the various costs and benefits in operating an incentive program at their markets. Additionally, information will be provided on the process for joining the Double Up network in Texas. 9 a.m.-1 p.m.
Topics will include:
General overview of incentive programs
Brief history of Double Dollars/Double Up Food Bucks
Program types and/or methodologies to implementation
Market readiness
Application process
Applying for a FNS Number
General program costs
Administrative processes
Reporting tools
Facilitators will be Sustainable Food Center's Hilda Gutiérrez, Food Access Director, & Alex Mace, Double Dollars Food Access Manager.
6.  FARM & GARDEN FOR YOUTH: Designed for pre-teens and teens, this program will be youth-led and will provide basics in food production, soil health, beekeeping, eating healthy at school, starting a community garden, and more. 10 a.m.-2 p.m.