11th Annual Farm and Food Leadership Conference
September 24-26, 2017 | Historic Downtown McKinney, Texas
General Info | Lodging & Directions |  Program | Registration
Conference Sponsors | Volunteering & Scholarships | Exhibitors

2017 KEYNOTE
FREDERICK KIRSCHENMANN joins the Farm &  Food Leadership Conference for the first time, serving as keynote speaker. A longtime national and international leader in sustainable agriculture, Kirschenmann shares an appointment as Distinguished Fellow for the Leopold Center for Sustainable Agriculture at Iowa State University. He is also President of Stone Barns Center for Food and Agriculture in Pocantico Hills, N.Y., continuing to manage his family's 1,800-acre certified organic farm in North Dakota.
He is a professor in the ISU Department of Religion and Philosophy and holds a doctorate in philosophy from the University of Chicago. He has held numerous appointments, including the USDA's National Organic Standards Board and the National Commission on Industrial Farm Animal Production operated by the Johns Hopkins School of Public Health. He served as the Leopold Center's second director 2000-2005, when he was named a Distinguished Fellow. He joined the board of the Stone Barns Center in 2004 and was elected president in 2007.
In January 2008, he began dividing his time between Iowa and New York, exploring ways that rural and urban communities can work together to develop a more resilient, sustainable agriculture and food system. He has written extensively about ethics and agriculture, including a collection of essays titled Cultivating an Ecological Conscience: Essays from a Farmer Philosopher.
Kirschenmann helped convene and continues to be active in Agriculture of the Middle, a multi-state task force that focuses on research and markets for midsize American farms. On his own farm he developed a diverse crop rotation that has enabled him to farm productively without synthetic inputs (fertilizers or pesticides) while simultaneously improving the health of the soil. He converted the farm to a certified organic operation in 1976, and the farm has been featured in numerous publications including National Geographic, Business Week, Audubon, the LA Times and Gourmet magazine.
His list of awards is lengthy, including: One World Award for Lifetime Achievement from the International Federation of Organic Agriculture Movements, the James F. Beard Foundation Leadership award, the 2012 Sustainable Agriculture Achievement Award from Practical Farmers of Iowa, Leader of the Year in Agriculture by Progressive Farmer, the Seventh Generation Research Award from the Center for Rural Affairs, the first Medal for Distinguished Leadership in Sustainable Agriculture from the Glynwood Center in New York, one of Plenty magazine's Top 20 People Dedicated to Sustainability, and the National Resources Defense Council Thought Leader award.
---
SPEAKERs
(Please check back frequently … additional speakers to be added!)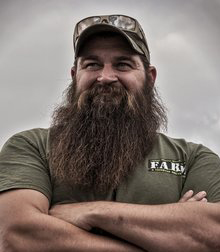 JAMES JEFFERS served in combat during Operation Iraqi Freedom, 2004-2008, and struggled to adjust to civilian life following his return home. He and one of his military friends, who was having similar difficulties adjusting, were both growing food for their families in North Texas, and together became involved in the local, organic food movement. Both found farming to be therapeutic and grounding.
With the help of the Farmers Veteran Coalition, the two launched a business in Dallas called Eat the Yard, doing vegetable production, composting, and edible landscaping for local restaurants, grocery stores, and community members. Within a few years, after losing several brothers-in-arms to suicide, the partners joined with other veterans to create a non-profit, F.A.R.M. Vets ("Farmers Assisting Returning Military), with a mission of integrating returning veterans to civilian life through the healing qualities they themselves have experienced through farming.
---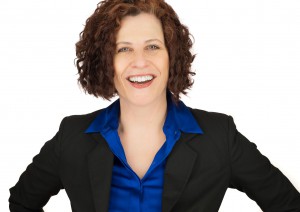 SANDRA LEWIS is a chef, humorist, and storyteller who is passionate about what she believes is the secret to living a satisfying life both at home and at work – spending time at the table. Through her work at Life at the Table, Sandra combines 20-plus years in human resources, technology sales, and non-profit work with her culinary expertise to inspire organizations to create workplace cultures filled with vibrant employees and loyal customers.
In 2009, Sandra had what she describes as a "now or never" moment, and decided to sell her house, tucked all her belongings in storage, and rented a room to attend culinary school. She graduated with honors and gave the student commencement speech at graduation. She founded Life at the Table, whose mission represents all she believes is good and important in life – meaningful work and living life deeply rooted in the community.
---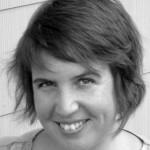 ANNELIES LOTTMANN is the Central Texas Program Coordinator for the Texas Rural Cooperative Center of University of Texas/Rio Grande Valley. In that role, she assists groups seeking to form or strengthen cooperative businesses all around Texas.  Before joining TRCC in 2015, Annelies co-founded Yard to Market Co-op, a producers' cooperative that, three years later, continues to provide sales and marketing services to small-scale food producers in the Austin area.
She also serves on the Boards of Black Star Co-op and the Austin Cooperative Business Association. Annelies has a J.D. from the University of Texas School of Law and a B.A. from Sarah Lawrence College. When she's not working with TRCC clients or tending her garden, she practices Brazilian rhythms with the Austin Samba School.
---
PATTY LOVERA is the assistant director of Food & Water Watch where she coordinates the work of the food team and focuses especially on meat inspection, food safety, labeling, and dairy issues. Patty has a bachelor's degree in environmental science from Lehigh University and a master's in environmental policy from the University of Michigan.  Before working at Food & Water Watch, Patty was the deputy director of the energy and environment program at Public Citizen and a research associate at the Center for Health, Environment, and Justice.
---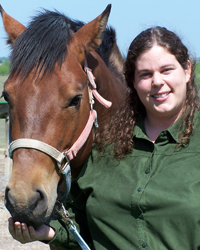 JUDITH McGEARY, the founder and Executive Director of FARFA, is an attorney, activist, and sustainable farmer.  After earning her Bachelors of Science from Stanford University and her law degree with high honors from the University of Texas at Austin, she clerked for a Federal Appeals Court and went on to private law practice.  During that time, she became a passionate advocate of sustainable agriculture, and she and her husband established their own livestock farm.  After seeing how government regulations benefit industrial agriculture at the expense of family farms, she founded the Farm and Ranch Freedom Alliance to promote common-sense policies for local, diversified agricultural systems.
Judith has been profiled in the Texas Observer and Edible Austin, appears in the documentary "Farmageddon," and has been interviewed on numerous radio shows across the country. Judith has served as the Vice Chair of the U.S. Secretary's Advisory Committee on Animal Health and is also active with Texas Organic Farmers and Gardeners Association, the Weston A. Price Foundation, and the Farm-to-Consumer Legal Defense Fund.
---
COLEEN THORNTON received her bachelor's in nutrition from Ohio State University and started her career as a registered clinical dietitian. In 1999 she received her MBA in finance and accounting from the University of Texas, Arlington, and joined the management team at American Airlines. Coleen's love of nutrition called her back to food, and she opened Heaven Sent Produce, a 3-acre urban farm in Arlington, Texas, later moving and expanding the operation into a 60-acre farm near Tahlequah, Okla. Heaven Sent Food & Fiber Farm includes a market garden, an orchard, Jersey cows and Nubian dairy goats, pastured pork and poultry, Merino sheep and Alpaca, and a commercial beekeeping operation.
Coleen also consults in Food and Ag Economic Development with farms and regional food systems to improve profitability and healthy food security. She assists Native American governments and regions in their efforts to expand agricultural production, food systems and food security, and she advises clients on horticulture and livestock production, value-added opportunities and business models. Coleen is an alumni of the Oklahoma Agriculture Leadership Program, on the Tahlequah Chamber of Commerce Board, and holds the agriculture seat on the Oklahoma Workforce Board-Muskogee. She is a certified GLOBALG.A.P.® and Harmonized Produce Safety Standard food safety auditor, completed the FSMA HARPC course, and is working in partnership with OSU Extension on local food safety initiatives for FSMA compliance.
---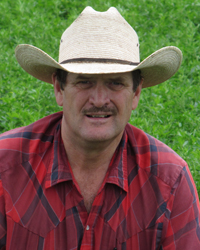 HOWARD VLIEGER is a third generation family farmer who has been a "student of the soil," studying why and how the soil works as it does, since 1989. Howard lives on the family farm where he was born and raised in northwest Iowa, and assists his son with some of the farming duties. Since 1992 Howard has been a crop nutrition adviser and has founded two companies to help family farmers reduce their dependency on chemical-based farming and transition to biological and/or organic production. Howard now works and teaches as an independent crop nutrition advisor, helping both crop and livestock farmers all across the U.S.
Howard works with scientists and researchers around the world to develop effective solutions, based on the latest science, for the real-life problems farmers are experiencing because of GMO crops and glyphosate. Howard is a co-author and the primary coordinator of a first of its kind scientific study: the feeding of GMO grain and non-GMO grain to hogs for their lifetime as a meat animal. Howard is an internationally recognized speaker on the topic of GMOs. Howard also serves on the board of directors for the Council for Healthy Food Systems (CHFS), Farm and Ranch Freedom Alliance's sister 501c3 organization.
---
JUSTIN and CARA YOUNG have operated the gardening and nutrition program for the High Plains Food Bank since 2011. Cara manages a one acre plot onsite at the Food Bank where they grow a variety of crops and raise animals as a way of providing food for Food Bank clientele and an outdoor classroom setting for community members to learn how to produce their own food. Justin teaches gardening and cooking classes throughout the community.
High Plains Food Bank supports 14 community gardens; conducts multiple workshops, field trips, and tours; and works to increase access throughout the community to healthy foods and to education about their benefits.