10th Annual Farm and Food Leadership Conference
September 25-27, 2016 | Bastrop Convention & Exhibit Center | Bastrop, Texas
1408 Chestnut Street, Bastrop, TX 78602
 General Info | Registration | Lodging & Directions | Speakers | Program
Sponsors & Exhibitors | Silent Auction | Volunteering & Scholarships  | Banquet
Want to get the latest news about sustainable farming and local foods?  Connect with other people who are passionate about these issues?  Be able to make a difference for the future of local agriculture?
Then join us at this year's Farm & Food Leadership Conference on September 25-27 in Bastrop, Texas!
This unique conference focuses on the policies and regulations affecting our farms and our food.  Whether you are a farmer, consumer, chef, local foods business owner, or nonprofit advocate, you will find useful information and tools to help support the growth of the local and sustainable food movement.
Click on the menu links above for all the details on the program, speakers, how to register, and more!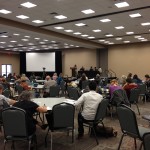 Highlights:
Hear the latest news on issues including food safety regulations, farm-to-school, the future of water, young farmers, GMOs, and much more!
Get the tools you need to make a difference through special activism workshops, including messaging to the media and citizen lobbying.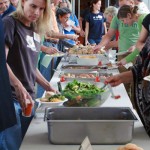 Enjoy a delicious lunch each day prepared with local and organic ingredients
QUESTIONS? Contact info@farmandranchfreedom.org or call (254) 697-2661.
Watch the video created by the Food Studies Project at the University of Texas at Austin from the 2012 conference: