Stay tuned for our next Texas Citizen Lobbying Day in early 2015 during the 84th Legislative Session. Sign up for our email alerts to receive updates.
This event is for our Texas members to affect Texas state laws. You can learn more about how to lobby your legislators, whatever state you are in, on our Tools & Resources page. We can also help you to organize citizen lobbying days in your own state. Contact Judith McGeary at Judith AT farmandranchfreedom.org.
---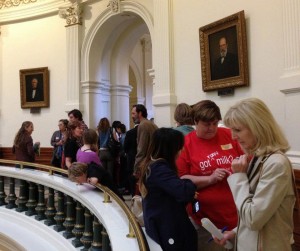 We need your help to move our raw milk and local foods bill forward! Please join us in Austin, Texas on Tuesday, March 19, 2013 for Local Foods Citizens' Lobbying Day. [Read the official press release.]
We have nine bills filed to help the local foods movement. Just getting them introduced is a major accomplishment, but we have a lot more to do in order to get them passed!
In-person meetings are the best way to let legislators know that you care about local farms and local foods. Your time and energy can truly make a difference in the chances of passing the raw milk and local foods bills this session.
CLICK HERE FOR DETAILS ABOUT THE EVENT
At the citizens' lobbying day, we'll share the latest news on all the bills, from raw milk to cottage foods. There will be a short session to teach you the basics on how to meet with legislators. Then we'll connect you with others from your area, and you will meet with legislators from your area in a group.
We know that many people have never met with legislators and may be nervous. Don't worry! It is not hard, and we will walk you through every step. We'll provide fact sheets on the bills — you just need to bring your own personal experience and passion.
And you won't be alone. This is a great way to connect with other people who care about the same issues, and there truly is strength in numbers.
Please share this alert with your friends and colleagues, through your email list and social networks. Successful grassroots action takes many people!
For questions about citizens lobbying day, email Alexandra@FarmAndRanchFreedom.org or call 512-537-2692. For questions on the substance of the bills, email Judith@FarmAndRanchFreedom.org or call 254-697-2661.
Read highlights from our 2011 Citizens Lobbying Day during the 82nd Legislative Session in Texas.
EVENT DETAILS
DATE: Tuesday, March 19, 2013
TIME: 9 am – 4 pm (The timing is flexible, so you can also come for just part of the day.)
WHERE: Capitol Extension Auditorium, Room E1.004, Texas Capitol, Austin. [Map of the Extension]
PARKING: There is reasonably priced parking at the Visitors Parking Lot. [Parking Map]
HOTEL: If you want to drive in the night before, we have arranged for a block of rooms for the night before the event, at a discounted rate of $58.50/night (plus taxes) at the La Quinta Inns and Suites, about 15 minutes north of the Capitol.
You must make your reservation by Monday, March 11, to get this rate.
Call 512-459-4381 and tell them that you are with the Farm and Ranch Freedom Alliance to get the special rate.
La Quinta Inns & Suites
Austin Highland Mall
5812 I-35 North
Austin, TX 78751
RSVP: Please send your name and the county where you live to Info@FarmAndRanchFreedom.org by Tuesday, March 12, 2013.
You are welcome to come whether or not you RSVP'd – this just helps us to plan better to make the day go smoothly!