By the end of this week, the U.S. House of Representatives is expected to try a second time to pass its version of the Farm Bill, once it has voted on immigration bills.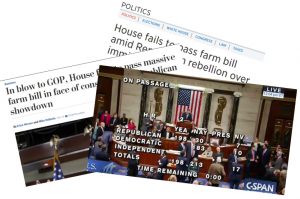 When the House Farm Bill first came up, we urged you to call to seek amendments to address the many flaws in the bill. None of the amendments we sought were adopted, and none will be offered on this vote for reconsideration.
So this time, we're urging you to call your Representative and tell him or her to vote "no" on the Farm Bill.
To put it simply, this is a terrible bill, well beyond the "normal" problems with the Farm Bill. The House version of the Farm Bill:
Eliminates the Conservation Stewardship Program (CSP), which helps farmers pay for measures on their farm that benefit us all by improving water, air, wildlife habitat, and soils.
Eliminates funding for key grant programs that have helped farmers' markets grow and small farmers to diversify their incomes (the Farmers Market and Local Food Promotion Program and the Value-Added Producer Grants Program).
…