Texans can legally buy farm-fresh, raw milk from licensed Texas dairies. But the regulations require consumers to drive to the farm — which may be 2 or 3 hours away — to get it.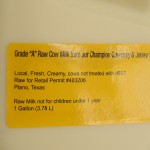 The current law burdens consumers, and it penalizes family farmers who are unfairly prevented from marketing their milk.  HB 91 would fix that, by allowing the sale of raw milk by licensed farmers at farmers' markets and through delivery.
Please help us pass HB 91 this session to make it easier for farmers to market and consumers to access raw milk!
TAKE ACTION
The legislators need to hear from YOU!  The chance of HB 91 passing this session depends heavily on the voice of passionate consumers. It only takes a few minutes to contact your legislator, and it really does make a difference. Here are some helpful steps:
1.     Find out who your legislators are.…