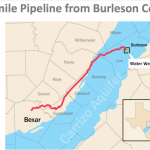 Tell the San Antonio City Council not to raid the water we need for agriculture!
---
October 7, 2014 update:
The San Antonio City Council will vote later this month on the Vista Ridge Project to take 50,000 acre-feet of groundwater per year from Burleson and Milam Counties to fuel urban growth.
WHEN: The first hearing on the proposal will be tomorrow, Wednesday, October 8, at 6 pm.
WHERE / WHAT TO DO: Come to City Hall, 114 W. Commerce to show your opposition to draining rural water supplies on a risky pipeline project for the benefit of private companies! Come a little early to sign up to speak, or just stand there with a "Stop the Water Grab" sign provided by the League of Independent Voters.
For more information on participating in the hearing, call League of Independent Voters at 512-213-4511 or email info@independentleaguetx.org.
Can't come to the hearing? You can still help, by signing the League's online letter!…